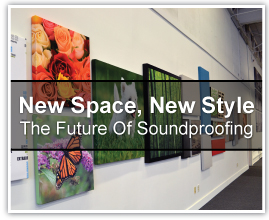 2015 has already been a year full of new acoustic products and sound solutions for Audimute and our customers. To continue this growth and better serve our customers, we've happily expanded and redesigned our own office space to meet the needs of our team.

As part of this office expansion, our Acoustic Specialist relocated to a new bare space. Before beginning renovations, the team shared and collaborated on how to create the best working environment based on everyone's needs.
The Future of Office Acoustics:
- Create a sense of "open door policy" for collaboration
- Separate desk space for customer privacy
- Have an inviting and creative atmosphere
- Allow for easy phone conversation
- Block loud distractions for focused work
After we knew what the space needed to do, we went to the drawing board to brainstorm ways to utilize our soundproofing and acoustic office treatments to create the perfect space for our Specialists. With a little imagination and some eco-C-tex®, we were able to custom create a cohesive space with individualized working stations that met every need on our list!



Space Dividers: Custom sized eco-C-tex® panels to fit the space. Each cubicle wall features two 4 inch panels, cut to 4'x6.6' to fit our space and coated in custom AcoustiColor™ color choices.

Back Wall Treatments: Each work space features a custom design formed from eco-C-tex® to stop conversational tones from traveling into other cubes.

Meeting Space: Beveled edge fabric panels butt up evenly for an extensible design that adds a professional look at any scale.

Hallway Wall: Custom designed eco-C-tex® lettering to quiet the space outside working stations.

Ceiling: Hanging AcoustiColor™ and fabric eco-C-tex® baffles in custom framing hardware add a soundproofing and visual affect to an otherwise open view.

Focal Wall: Large scale acoustic panel treatment created with a mix of custom shapes, sizes, coatings, and frames to add a visual element to a high traffic space.
The finished space meets all the design and acoustic needs our Specialists were looking for; the creative environment is suited for open collaboration while still allowing individual quiet stations. And because eco-C-ex™ is crafted from recycled materials, the new décor is safe and fire rated!
Design your own office and see what eco-C-tex® can do for your space, or call an Audimute Acoustic Specialist at 866-505-MUTE for personalized sound advice and design options!