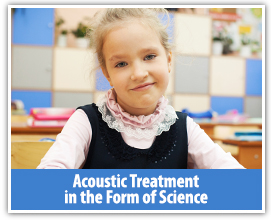 Are you a science teacher or educational leader looking to solve a sound problem in your school?
We've recently discussed the importance of acoustics in today's schools, classrooms, cafeterias, and gymnasiums. High-quality acoustic treatments can bring a wealth of positive change to these noisy environments.
Acoustic panels, acoustic tiles, and acoustic clouds and baffles all offer the effective sound solution your school needs.
At Audimute, we understand that your school is unique; it radiates enthusiastic and vibrant school spirit that cannot be found anywhere else. With our AcoustiColor® option, you can match any acoustic treatment with any Sherwin Williams paint color. Add that to our deep – and seemingly endless – options for customization, including school logo, mascot, images, text, patterns, and designs, and your acoustic treatments will elevate your school's pride.
Science comes alive with these new acoustic treatments:
But we wanted to deliver the next level of fun, customized acoustic treatments to you and your school. We wanted an acoustic treatment that spoke to the academic side of school.
Our newly launched Accent Baffles can help bring science to life in your halls, laboratories, and classrooms.
Place molecular formulas on our polygon baffles and hang them from the ceiling
Our main passion is customization and bringing your acoustic solution to life. Contact one of our Sound Solution Experts at (866) 505-MUTE to discuss your space and customization desires.