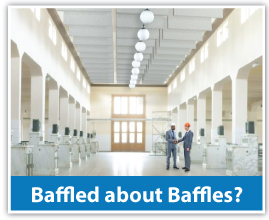 When you start your search for the perfect acoustic solution, the technical jargon is enough to make your head spin. We understand that even the name of various products don't offer much clarity.
Specifically, we're talking about acoustic ceiling baffles. Don't worry, when we started working in this industry, we were baffled about baffles, too.
So allow us to try to bring a sense of simplicity to the purpose and function of these effective acoustic treatments.
What are acoustic ceiling baffles?
Acoustic ceiling baffles are sound absorption and reduction devices that suspend vertically from any ceiling. Baffles are powerful in controlling reverberated sound and reducing unwanted noise in any size space because they provide absorption on all surfaces and edges.
Baffles are made of engineered acoustical materials – typically fiberglass and foam – and often coated or covered with an acoustically transparent fabric. To increase the quality and safety of ceiling baffles, we've engineered more innovative absorption materials that provide an eco-friendly and health safe alternative to acoustic foam or fiberglass.
Audimute acoustic ceiling baffles are constructed with eco-C-tex – a blend of recycled cotton and cellulose – and, if desired, wrapped in acoustically transparent fabrics made of pre- and post-consumer recycled polyester.
In what spaces are acoustic ceiling baffles most effective?
Acoustic ceiling baffles will perform in any space, but to get the most out of their purpose and function, baffles deliver unprecedented return in large, busy environments. Such environments include:
• Open office spaces
• Airport terminals
• Performance halls
• School and community gymnasiums
• Cafeterias
• Bowling alleys
• Factories
• Malls
• And many more
The Benefits of Acoustic Ceiling Baffles
• Acoustic baffles utilize an otherwise unused ceiling area and free up vital wall space for windows, chalkboards, signs, lights, store fronts, etc.
• Acoustic baffles offer more absorption surface than any other acoustic solution.
• Acoustic baffles are customizable to match any style, interior theme, or ambience.
Are you ready to bring an exceptional sound experience to your space? Browse our vast selection of ceiling baffles to find the right solution and style for your space.
Don't hesitate to reach out. Call one of our Acoustic Specialists at (866) 5050-MUTE – or fill out our free room analysis form to receive personalized advice for your unique space.