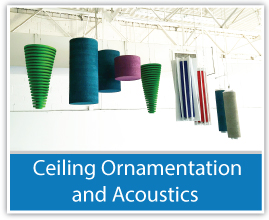 You want to be creative. You want to have a modern ceiling design to match your contemporary themed house, restaurant, theater or club. You don't want harsh sound, however. You want to feel like you can have an intimate conversation and not have it echo throughout the halls. You need modern ornamental ceiling design.
Throughout history, ornamental ceiling designs were most noticeably used during the 15th and 19th century. The highly ornamental style of baroque architecture helped with acoustic diffusion of sound waves. This is why baroque music halls were well known for their outstanding acoustics without being treated with any sound controlling products.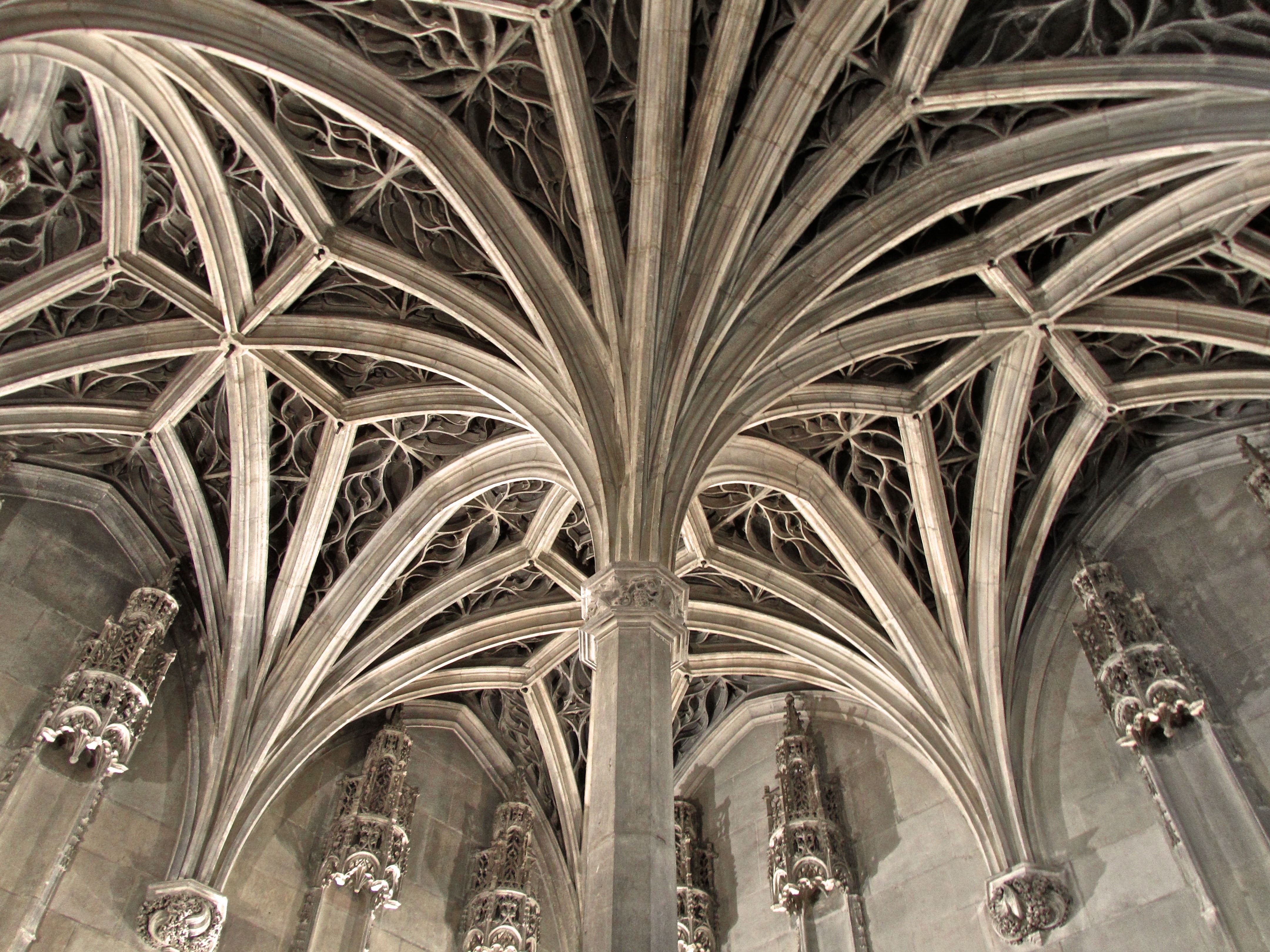 Baroque architecture is characterized by extravagant curving forms and excessive ornamentation. Every baroque hall is dripping with an assortment of marble statuary that can actually enhance a space's acoustic environment. Each marble cherub, gargoyle, pillar and column does not absorb sound, but reflects it, so that when music plays, the sound reflects off of all of these curved, marble surfaces defusing the sound and creating a lovely, enveloping acoustic space.
Today, modern design is characterized by flat hard surfaces, exposed systems, glass and steel, and the use of sustainable techniques. While these spaces look sleek and modern, the minimalistic elements, common in contemporary design, can prohibit sound waves from being properly absorbed and diffused. The lack of sound absorption forces the sound waves to reflect back and forth, creating a troublesome reflection pattern, also known as a flutter echo. This echo can be irritating, inhibit productivity and can even cause health problems.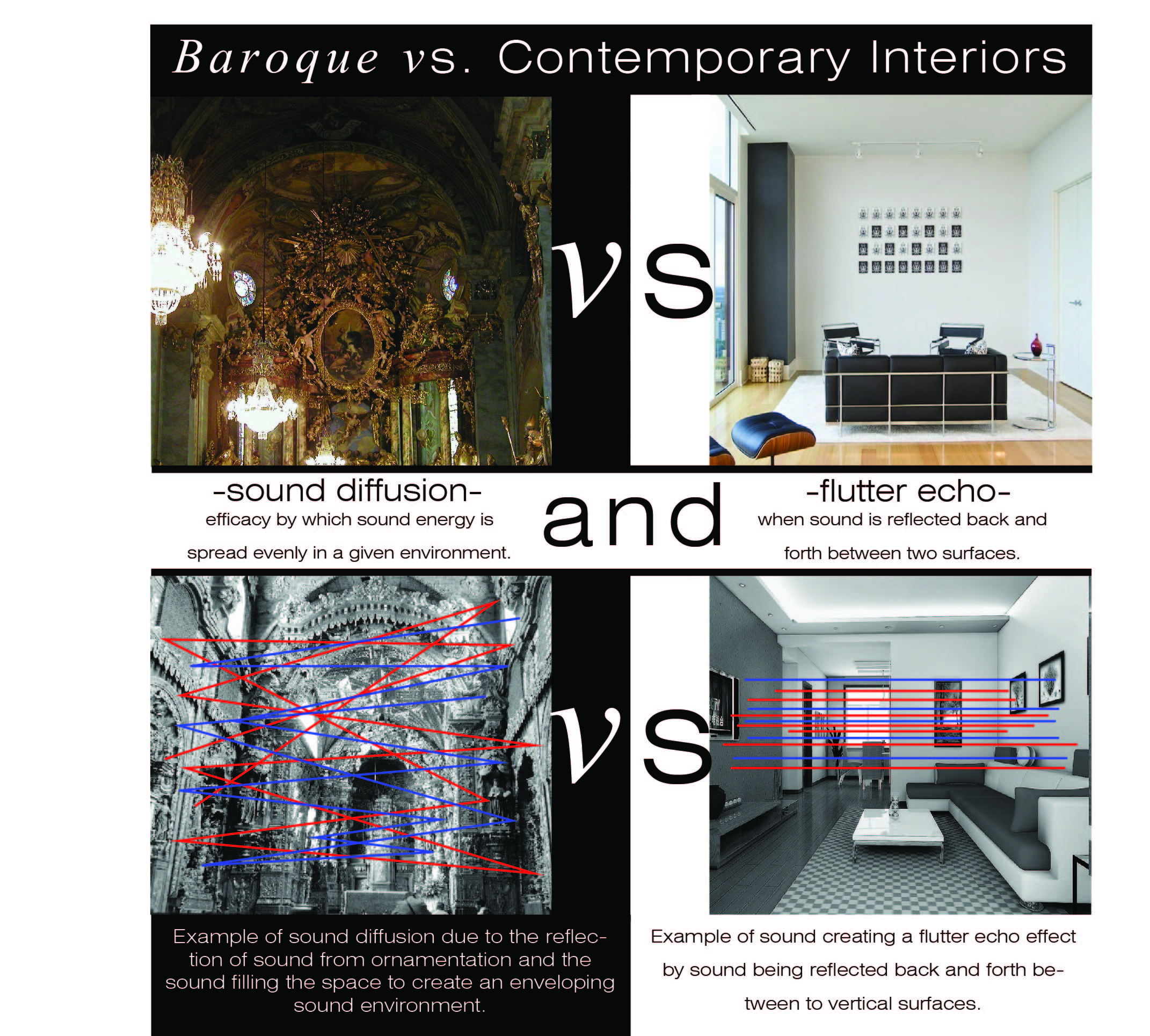 Caption: A comparison between a typical contemporary space with sleek surfaces and a room with baroque ornamentation. As you can see, sound waves reflect directly back in the modern space but are dispersed throughout the baroque room.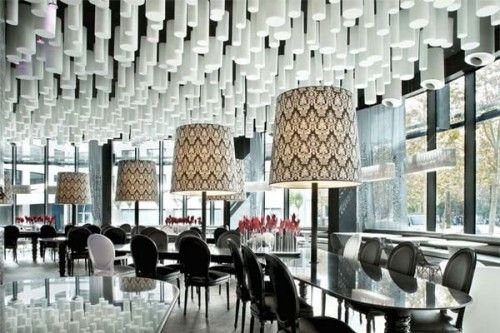 To reduce flutter echo, the addition of pieces with uneven surfaces will break up sound reflections and create a well-rounded sound. If the idea of the space is to keep furniture to a minimum, adding sound absorption pieces to the ceiling could be the alternative.

Acoustic ceiling products can be design friendly as is Audimute ceiling products. You can customize the product to your exact desired finishes, shapes, sizes, fabrics and colors. In addition, many products are eco conscious that are made of recycled materials, release little to none off-gassing and are fire rated.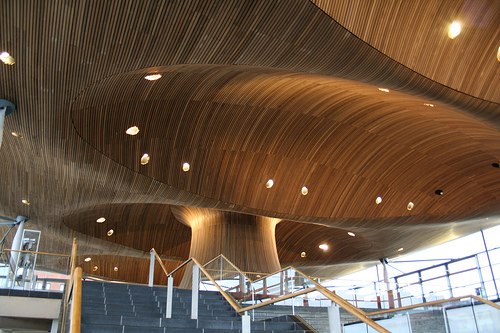 To be creative, maintain your contemporary style and have an acoustical appealing interior, ceiling products are your best alternative. To see more about acoustic ceiling products, visit www.audimuteacousticpanels.com.