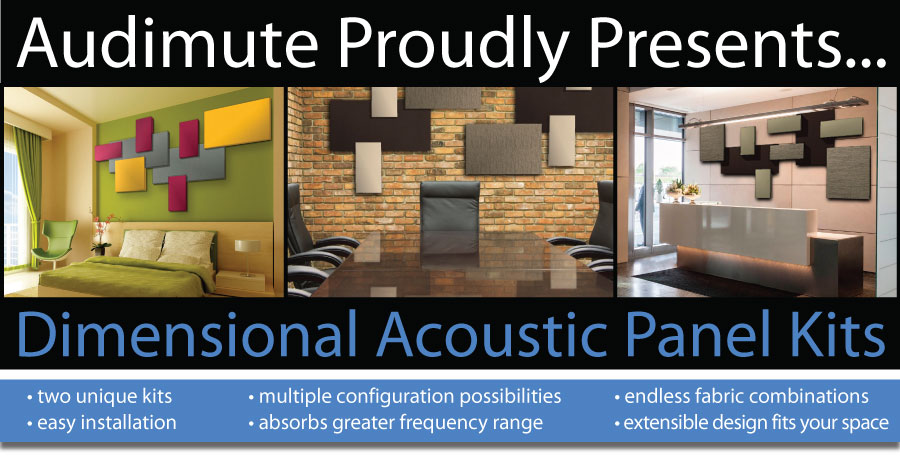 Add Contemporary Wall Décor to your home or office with Audimute's Dimensional 4 Panel Kits. These interlocking wall panels can be configured in a variety of ways allowing you to create a custom piece of art for your room.
The panels can be placed directly onto your wall with the pre-affixed industrial strength fastener on the back of each panel. The panels hang in seconds but we recommended planning out your wall design prior to hanging the panels because it is difficult to reposition the panels once they are fastened to the wall.For more installation information check out our Installation Instructions.
There are two different Audimute Dimensional 4 Panel Kits.
Our Mod Kit, which includes the following four panel sizes:
(1) 2' x 4', (1) 2' x 3', and (2) 1' x 2'.
Our Flex Kit, which includes the following four panel sizes:
(1) 2' x 4', (1) 2' x 2' and (2) 1' x 2' panels.
The difference between our two kits is that the Mod kit has a 2' x 3' panel and the Flex Kit has 2' x 2' panel.
Both kits can be fabric wrapped three cover options:
Our Standard and Designer Fabrics- This option allows you to select one color from our 22 standard and designer fabrics. Your entire kit will be wrapped in one fabric covering for a monochromatic contemporary wall décor statement.
Shop our Mod Kit Standard and Designer Fabric
Triad Color- If you prefer something bolder than our monochromatic kit, choose one of our Triad Colored kits. You can select from one the 16 pre-selected color schemes listed on the product page.
Shop our Flex Kit Triad Colors
Custom Fabrics- Select from one of the thousand fabric selections available through Guilford of Maine. All four panels in this kit will be wrapped in one the singular fabric selection of your choosing.
Shop our Flex Kit Custom Fabric
If you do not see a cover material that appeals to you give us a call,(866) 505-MUTE, and our specialists will be happy to help you create the custom Dimensional Panel Kit you desrie.
For an extraordinary statement piece in your space, combine two of our Dimensional Panel Kits together. A Mod Kit will connect to another Mod Kit with the Mod Connector Panel. Two Flex Kits can be combined with the Flex Connector Panel. To combine a Mod Kit to a Flex Kit no connector panel is needed.
Check out our Dimensional 4 Panel Kits here or for more information and custom solutions give us a call, (866) 553-4600, and one of our acoustic specialist will be happy to assist you.