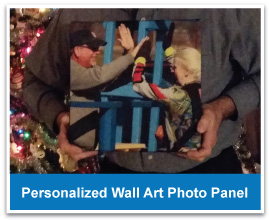 From a positive conversation with one of our Acoustic Specialists to a custom image print customer review, we love when customers share their Audimute experiences with us. Read what Sarah from Cleveland thought of her first Audimute personalized wall art photo panel purchase, and then create your own!
---
I purchased a 1x1 custom image panel for my father for Christmas this year and wanted to share how happy we both were with the results. From a customer standpoint, I am very unfamiliar with soundproofing and acoustic treatments and hadn't heard of your company before. As I am not a musician, I have never needed something like your sheets, and since my family lives in a ranch style home, high ceilings and open floor plans or acoustic solutions have never been much of a concern. Instead, I was drawn to Audimute because of how clear the finished panel images are shown on your website, and the panel I received is no exception.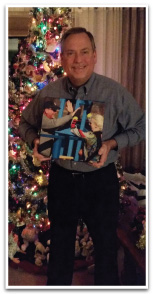 My original plan was to have the image printed onto a canvas panel, and it was during a search for canvas-style personalized wall art photo panel pieces that I came across your company. What stood you out from the crowd of similar custom image print customer review pages and products were your materials. With a big family and a dog in the house, my parents have always been concerned with the types of products and materials we bring inside. Knowing that the center of this panel is made from eco-friendly recycled materials and safe fabrics and inks put me at ease knowing my dad would happily display it. I was also really impressed with the quick lead time. Other products I was looking at needed nearly a month to ship. I ended up receiving my panel from Audimute in two and a half weeks.
The picture I submitted for print of the two of us together was originally posted to the website of a local newspaper. I was concerned that it wouldn't be the right quality or size for printing, but the designers at Audimute were happy to work with me. I even asked if I could get a custom color for my border and the designer happily accomodated me. I was very impressed with what he was able to do with the image I sent. I searched tons of custom image print customer review pages and hadn't seen anyone mention that kind of customer service. I really felt like I was part of the process and that the finished
product is exactly how I pictured.
My father was very excited when he opened up this gift and has taken some time to check out the rest of the Audimute website and panel designs for other pictures and projects. The finished panel has such a clean look and was so easy to hang. I will happily recommend Audimute personalized wall art photo panel gifts to friends and family looking for a special touch.