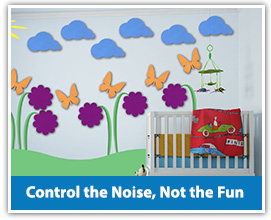 Today's daycare facility is sophisticated. The amenities, the activities, and the expert staff members are pretty impressive.
If you're a parent reading this, we know you took a lot into consideration before you committed to a daycare for your child. But did you consider the noise level? Your child is at daycare to be looked after, to have fun, to learn, to socialize, and to rest. Without proper acoustic treatments to damped echo, to absorb unwanted noise, and to control the sound volume, your child may find it hard to concentrate, hear his instructor, communicate, and enjoy his rest time.
If you're a daycare owner or staff member reading this, we know the kiddos you look after every single day mean the world to you. We know that you want to provide them the best, most meaningful experience during the day. Have you noticed that the noise level in your daycare can become wild and unruly?
While the noise occurs due to the pure magic only a child can create, it's important the noise levels don't hinder any child's fun, rest, or concentration.
At Audimute, we know the perfect acoustic solution – or solutions, we should say – for your daycare facility. You decide which one fits your facility best.
Acoustic Panels and Tiles
Do you have a lot of wall space you'd like to bring to life with fun colors, images, shapes, or designs? Discover our versatile, completely customizable acoustic panel and acoustic tile solutions.
Acoustic Ceiling Clouds & Baffles
Take your sound absorption treatments up high and create an engaging, colorful ceiling. Learn what Audimute's acoustic ceiling clouds and baffles have to offer your lively space.
Audimute Acoustic Shapes
From acoustical tiles to word letter art to wall art shapes, our Audimute Acoustic Shapes will add custom, 3D, kid-loving acoustic to your daycare walls.
YouCoustics™
Close your eyes for ten seconds and imagine what you want your kid-loving acoustic treatment to look like. Where is it placed? How big is it? What colors, shapes, and images are involved? With Audimute's YouCousticsTM, you can control the noise without sacrificing fun or theme by designing every piece of your dream acoustic solution.
Enhance the fun in your daycare space today. What to discuss your space and acoustic treatment with a sound expert? Call Audimute today to receive personalized advice on soundproofing and acoustic solutions for your kid-filled zone at (866) 505-MUTE.