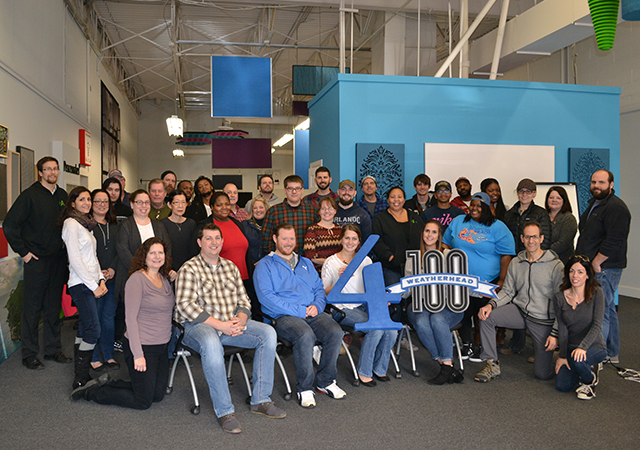 At One Wish we are committed to creating Sound Experience Everywhere™. We strive to serve our customers through extraordinary relationships, teamwork, communication, and leadership by everyone.
On the One Wish team:
• Everyone leads
• We are not afraid to be great
• We love what we do
• We are inspired by each other
• We think outside the box
• We take ownership
The faces behind One Wish are what makes us the company we are today. One Wish has a community that is unique to the average business. It is an array of genuine, dedicated, and driven individuals that come together to reach the ultimate goal: Sound Experience Everywhere.
As a way to demonstrate how truly unique our community is, we've decided to create an employee spotlight where you can get to know the many faces behind One Wish!
Meet Ron Crowe: Custom designer, architecture junkie and Cleveland's greatest fan.
Ron is One Wish's highly talented custom designer. His daily routine consists of creating new designs, developing custom products for customers, strategizing product feasibility and supporting marketing initiatives. Ron excels at implementing ideas into realities.
Growing up, Ron knew he wanted a career that allowed him to be creative, problem solve and make an impact in the built environment. With that, he took his passion to Ohio State University where he studied interior design, became a forever Buckeye and made his way to One Wish.
1. How did your career at One Wish start?
I started my career at One Wish as a contract employee for 6 months which then turned into a full time position. I am coming up on three years now.
2. What do you love about One Wish?
What I love about One Wish is that it is fast paced. Every day you are working on a new project and being challenged. At One Wish, you are able to make a huge impact for a small company and that's the most rewarding part of my job!
3. What quality or qualities does someone need to possess to be successful?
To be a successful designer you need to be able to be flexible and think fast on your feet. You need to take ownership of your ideas and be 100% committed. To be successful in life, you need to find the perfect work life balance.
4. You say to be successful you need to have a work life balance. What are some of your favorite things to do outside of work?
When I am not at work, you can find me hanging out with my best friend Phoebe, my 7-year-old daughter, exploring the great city of Cleveland, capturing images, touring architecture, listening to music and being a D.J.
5. What do you consider to be your greatest achievement?
My greatest achievement would have to be that I am able to do what I love and turn that into a way to support my family.
Ron is just one of the many smiling faces behind One Wish. He brings a level of expertise that allows One Wish to be creative in custom products, develop and test new products and create Sound Experience Everywhere.
Want to know more about Ron? Comment below or contact him at ron.crowe@onewishllc.com. Make sure to tune in next time as we highlight another face behind One Wish.