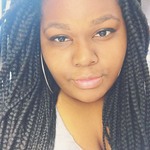 Taylor is one of One Wish's creative production associates. On a daily basis, Taylor works to create custom acoustic products for our loyal customers. She hand-crafts all of the panels and tiles that are ordered - which is why it's probably a good thing that she loves art!
As a full-time student and full-time employee, Taylor says that her passion for art is what keeps her going. She loves being able to work with her hands and having the opportunity to switch up her "art projects."
1. How did your career at One Wish begin?
I had just finished my second year of college and was looking for a job. This opportunity showed up and I went with it.
2. What do you love about working here?
I definitely love the people that work here! I also enjoy the fact that I get to be creative and use my hands. Sometimes art can be repetitive so when I am here, I get to switch it up and do a new project every day.
3. What are you studying in college?
I am studying business with a focus in either hospitality or in computer science. I'm undecided on which one.
4. Do you think working at One Wish helps you in school? Can you apply what you do here to what you are learning in the classroom?
Yes! My dream would be to open up a non-profit and build schools in third world countries. Working here, you get to see how a small business has the opportunity to grow and expand into something more. Small businesses really make an impact on the economy and you get to see first-hand how it can affect someone. The best thing about me starting here when I did is that I was able to see how the changes have transitioned through the years. Going from a company of maybe around 20 employees to now almost 50 is crazy!
5. Where do you see yourself in seven years?
I either want to be working for a nonprofit or on my way to opening one up. Cleveland is about to expand its art scene and I want to be a part of that. Whether it's organizing photography exhibits, volunteering at the Museum of Contemporary Art Cleveland or focusing on Cleveland art in nonprofit work, I just want to be a part of it.
6. Do you have any hidden talents?
I love photography! I'm also a cruiser. I love going on cruises. The best one I have been on was to Puerto Rico! And I also love anything that has cheese. Like mozzarella sticks for example.
Want to learn more about Taylor? Comment below or visit our company website!