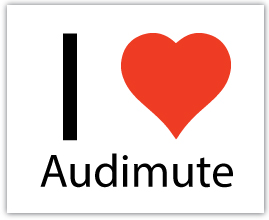 We get giddy with every acoustic solution we make, paint, print, and ship out. We can't wait for your acoustic solution to arrive at your door step, and we certainly can't wait until you experience your new found sound experience.
We've been dying to ask: How did your acoustic solution turn out?
Let's see it! We want to showcase your space with your newly implemented acoustic solution. Send or post a photo of your remarkable sound experience and we'll add it to our sound solution inspiration board.
Don't stop there!
• Make sure to add the hashtag #iLoveAudimute to your social media photo submission.
• Do you have a 'before' photo? Make sure to send that, too. That way everyone can see your space's transformation.
• Leave a note with your photo that discusses the sound issue your space was experiencing and the impact Audimute's acoustic treatment made in your space.