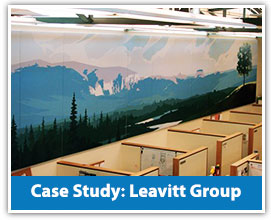 Open office spaces welcome increased collaboration, innovation, and comradery. With so many businesses fostering open environments, it seems as though there is nothing not to love. Yet, open, bustling office spaces present poor acoustics.
Leavitt Group, an independent insurance agency, sought to create a one-of-a-kind, open office environment in one of their main buildings. Residual acoustical issues hurt the atmosphere, however. Conversations, phone calls, and meetings collide to create a heap of noise and distractions. Since the open office area is surrounded by hard surfaces and tall ceilings, Leavitt Group's leadership team wanted to resolve the building's sound issue and enhance the overall feeling of the space.
Discover how Audimute and Leavitt Group collaborated to solve this open office sound problem from wall to wall.