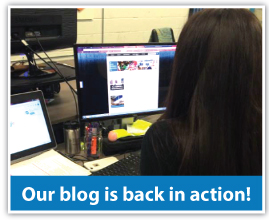 We've cleared away the cobwebs and brushed away the dust. Our blogging hiatus is o-v-e-r.
If you didn't even know we had a blog, welcome! If you're a previous fan and the radio silence had you feeling down and out, welcome back. We promise to not leave you hanging anymore.
So where have we been? Allow us to fill you in on what we've been up to since you last heard a blog blurb from us:
• We've grown! We've added new staff and continue to hire talented team members

• We've significantly expanded our warehouse space to hold more inventory to ensure orders arrive fast and accurate

• We've developed new ceiling cloud and baffle products, and continue to innovate and grow our product line
Exciting, right? And we do it all in the name of sound, for it is our mission to help you improve the acoustics in your studio, home, or business at an affordable price.
As sound solution experts, we're here to provide insight, guidance, and inspiration to all of your sound questions and needs. We'll use our blog to share information and tips on various topics, such as:
• Understanding sound

• Resolving noise and sound problems in various environments and spaces

• Interior design and remodeling with acoustic panel treatments

• New product launches and applications

• And much more
At Audimute Acoustic Panels, it is our mission to empower the world of sound. Continue to check back for the latest posts and updates as we continue to roll out new, design-driven products. You can also find us on your favorite social media channels, like Facebook, Instagram, and YouTube.
Until next time, here's to Sound Experiences Everywhere™!