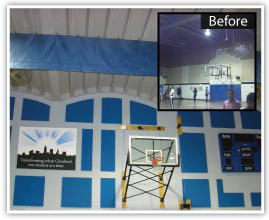 Gymnasiums are prime spots to host large crowds and noisy events. But the sound experience is always deafening. The gymnasium at St. Martin De Porres High School in Cleveland, Ohio suffered from poor acoustics during large events, as a mix of loud sounds would continuously bounce off the walls.
Because of the tall ceilings and hard surfaces, St. Martin De Porres High School knew that the only way to improve their gymnasium's sound quality was to treat it with high-quality acoustic panels.
Discover how Audimute Acoustic Panels solved St. Martin De Porres' sound problem from the ground up.