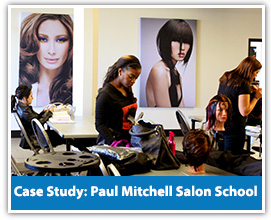 Salons are fun, social atmospheres. They welcome beaming conversation and they host noise from blow dryers and hair washing stations. With so much going on in one open space, instruction and conversation become difficult.
The Paul Mitchell Salon School is known for unleashing talented hair stylist into the beauty world. Within their instructional space, the Paul Mitchell Salon School found that the open environment and hard surfaces heightened conversations and activity during made teaching sessions, making the setting very noisy.
It was time to find a solution to improve the school's acoustics. The school knew the solution had to compliment their already established clean, minimalist ambiance.
Read how Audimute worked with the school's designers at Powell Dudley Frith Architects to create an acoustic solution that was not only high-quality and effective, but also vibrant and stunning.