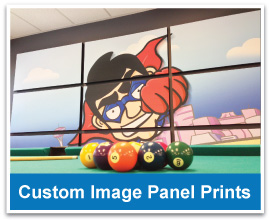 Custom image panel prints add a personal touch of style to every space. See what makes ours different, and check out our tricks and tips for decorating with art panels!
What Makes Audimute Panels Different?
We transfer your image to a vector graphic file for the highest print quality. Vector graphics are images made up of lines and curves with defined start and end points as opposed to traditional computer graphic images made from dots. Regular JPEG images made up from dots inevitably reach a point where stretching causes them to become pixilated and unrecognizable. With clearer results than traditional canvas prints, it's easy to decorate any space with vector graphic custom image panels.
5 Tips for Decorating with Art Panels:
1. Stray from the Standard: Don't settle for retail canvas prints you don't absolutely love. Custom image panel prints put you in charge of your wall décor. Showcase family photos or vacation shots in the highest quality at home or brand your office with group pictures and logos.
2. Forget the Frame: Bulky frames take the attention away from picture details and add visual clutter to a space. Instead, opt for fabric wrapped edges for a softer, more detailed finish. Our panels are gallery style mirror wrapped for edges that add to your image from any angle.
3. Dream Big: Designing with large custom prints is an easy way to make a big statement, especially in commercial spaces like restaurants, hospitals, and offices. Large prints are a great statement piece in an open floor plan room or on a focal wall. Vector graphic custom image panel prints can also be broken up into multiple panels for a mosaic or window-like finish for large scale coverage that gives attention to every detail.
4. Try Before You Buy: See what your space will look like before deciding on an image size or grid panel design. Cut and tape blank paper to your wall in different sizes and patterns to see what works best for you.
5. Get Comfortable: What's trendy one day could be out of style the next. When decorating any space, think about the atmosphere you want in that room and choose wall décor and furniture that will withstand the test of time. If a picture tells a thousand words, make it a story you'll love to share over and over again.
Get more tips for decorating with art panels and design your own large custom photo canvas prints today, or call an Acoustic Specialist at (866) 505-MUTE for personalized advice.