Please note:
Because AcoustiColor Tiles are built to order, they are not returnable. For more information, please see our Return Policy.
Small Custom Size AcoustiColor® Tiles
Ships In: 10 Business Days
More Information

| | |
| --- | --- |
| SKU | MC |
| Size | Custom |
| Number of Panels | 1 (One) |
| Fire-rated | ASTM E-84, Class A Rating |
| Hardware Included | None |
Small Custom Size AcoustiColor
®

Tiles

Your size, your color, your sound – with small custom size acoustic tiles in AcoustiColor®, you're in control of your space.

Audimute's small custom size sound dampening tiles can be custom cut to any size from 6" x 6" to 2.5' x 2.5' with accuracy up to the half inch to fit your space as needed. For standard sizes, such as 1 x 1', please see our Standard AcousticColor Tiles.Tiles adhere directly to walls with industrial glue, and even butt up next to each other for any size application or scalable design.

AcoustiColor tiles are available in the full range of Sherwin-Williams' color selection. Choose a new color to pop in your décor, create a pattern of multiple colors and sizes, or even color match your current wall color for hidden acoustics. Audimute small wall absorbing panels– available in 1.5", 1', and .5' thicknesses – are made with our signature sound absorption core material that is not only NRC rated for excellent mid to high range frequency sound absorption, but is also eco-friendly and Class A fire-rated for safety in commercial applications. From reception desks and lobbies to auditoriums and gymnasiums, custom size AcoustiColor small custom size acoustic tiles are making a sound impact and a style statement.
Small Custom Size Acoustic Tiles:
Class A fire rating- ASTM E-84
Excellent sound absorption - 1.5" thickness: NRC .95, 1" thickness: NRC .75 & .5" thickness: NRC .50 perfect for mid and high range frequencies
Custom Color Coatings - 1,000's of color options to choose from through Sherwin Williams' line of acoustical coatings
Custom Sizing - from 6" x 6" to 2.5' x 2.5' with accuracy up to the half inch
Eco-Friendly – core material made from recycled cotton and cellulose fibers
Easy Installation – adhere to walls with industrial strength glue
AcoustiColor® Touch-Up Kit
Every AcoustiColor® product purchase includes an AcoustiColor Touch Up Kit, because bumps and dings happen. This all-in-one paint touch-up kit is specially formulated to provide long-lasting repairs to small nicks, scratches, and chips with a simple squeeze of the enclosed bottle.
NRC Rating vs. Durability
The relationship between durability and absorption, and the role this plays when selecting the best Acoustic Tile option for your space, is often misunderstood. The graph below illustrates how product thickness affects both durability and acoustic performance.
When selecting the right product, it's important to consider the area that you are treating. Will your Acoustic Tiles be placed in a high-traffic area? If yes, one of our more durable Acoustic Tile thicknesses may be a better option to consider.
Still have questions? Contact one of our Acoustic Specialist today.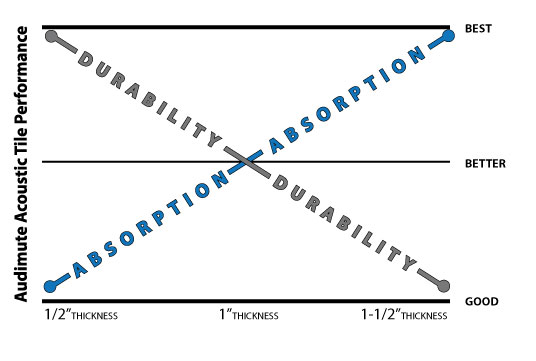 AcoustiColor® Appealing Texture Variations
Known for its natural bands of texture playing throughout, the final appearance of AcoustiColor® products have normal irregularities that are considered part of the appeal. Variations in the appearance of texture and shading for example, create a distinctively interesting character that makes AcoustiColor so unique.
This product delivers the aesthetics of rustic natural stone; therefore, variations are both normal and desirable. Key characteristics are a dense yet porous fine-grained appearance. Each piece is unique with textures occurring naturally.
Cut Sheets - View our Acoustic Tile cut sheets here.

1.5" Thickness - 0.95 NRC View 1.5" Sound Lab Report

1.0" Thickness - 0.75 NRC View 1.0" Sound Lab Report

0.5" Thickness - 0.55 NRC View 0.5" Sound Lab Report

1.5" Thickness - 1/4"

1.0" Thickness - 1/8"

0.5" Thickness - 1/16"

eco-C-tex™

sound absorption material consists of a blend of recycled cotton and cellulose fibers - the majority of which are post-consumer recycled newspaper and requires an astounding 1/10th of the amount of energy to produce compared to traditional fiberglass.

Safe for your health

- Non-toxic, non-carcinogenic, no fiberglass.

Class A Fire-Rated(ASTM E84 Class A) The materials used in our acoustic tiles have received the highest rating possible under the ASTM E-84. Learn more.
Our Acoustic Tiles are designed to be mounted to a surface using hang tabs, a construction-grade adhesive, or using mechanical fasteners.View installation instructions here.
Want to create a sound solution that's totally unique to your space?

We have experienced designers ready to empower you to create your own soundproofing solution. The possibilities are endless with custom images, sizes, shapes, finishing, and framing options. Ready to get the ball rolling?

Reach out to one of our Acoustic Specialists

-

the

experts at creating Sound Experiences Everywhere®
We found other products you might like!