Why Buy A Noise Absorbing Panels Sample Pack?
About Audimute's Acoustic Panel Sample Program
We created our Standard Fabric and Image Panel Sample Packs so that our customers could see, touch, and even hang a sample acoustic panel with minimal commitment. We want you to "Try Before You Buy!"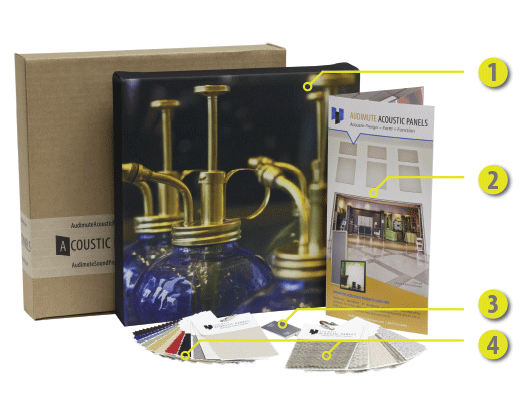 Try Noise Absorbing Acoustic Panels the low-risk way
In each pack, we include:
A fully finished and fully functional noise absorbing acoustic panel

A pamphlet loaded with crucial information

The hanging mechanism (panel clip and screws)

Standard and designer fabric samples
*Plus, you get a rebate covering the cost of the sample pack when you decide to order with us.
The greenest Acoustic Panel on the Market. Why?

Fabric Covering: made of post- and pre-consumer recycled polyester

Frame: fully recyclable lightweight steel

Absorption Material: eco-C-tex, our own innovation. A green alternative to traditional fiberglass insulation, requiring 1/10th the energy to manufacture, and 1/40th the energy used in manufacturing acoustic foam
Performance: The Proof
NRC Rating of 1.0, perfectly absorptive
Most applications require only 15-25% wall coverage
Customization: The options are endless
Custom sizes

Custom shapes

Custom covering material and coating

Custom framing

Custom panel-like solutions