About Audimute's Sample Program
We created our Standard Fabric and Image Panel Sample Packs so that our customers could see, touch, and even hang a sample acoustic panel with minimal commitment. We want you to "Try Before You Buy!"
There is also an AcoustiColor® eco-C-tex® Sample Pack and a Peacemaker® Sample Pack.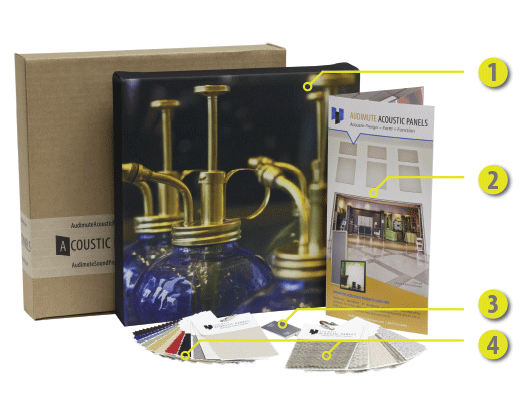 Try Noise Absorbing Acoustic Panels the low-risk way
In each pack, we include:
A fully finished and fully functional noise absorbing acoustic panel

A pamphlet loaded with crucial information

The hanging mechanism (panel clip and screws)

Standard and designer fabric samples
*Plus, you get a rebate covering the cost of the sample pack when you decide to order with us.
The greenest Acoustic Panel on the Market. Why?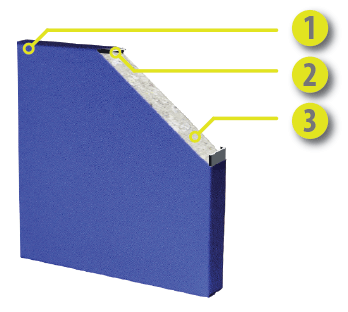 Fabric Covering: made of post- and pre-consumer recycled polyester

Frame: fully recyclable lightweight steel

Absorption Material: eco-C-tex, our own innovation. A green alternative to traditional fiberglass insulation, requiring 1/10th the energy to manufacture, and 1/40th the energy used in manufacturing acoustic foam
Performance: The Proof
NRC Rating of 1.0, perfectly absorptive
Most applications require only 15-25% wall coverage
Customization: The options are endless
Custom sizes

Custom shapes

Custom covering material and coating

Custom framing

Custom panel-like solutions