Audimute is proud to offer some of the best lead times in our industry! Producing high-quality products delivered in a timely manner to our customers involves planning and collaboration between multiple departments within our organization. We strive to begin production on orders as quickly as possible and have procedures in place to assist us in this goal. Because of this, order changes cannot be guaranteed if requested more than one hour past order placement. Additionally, any order for custom/made-to-order product cannot be cancelled once placed.
Returns must be received within 30 days of receipt.
Returns must be received in new condition.
All returns must be authorized before the product is sent back.
You will be responsible for the shipping costs to return the merchandise.
Always ship with proper packaging and insurance, using reputable carriers.
A restocking fee of 20% will be charged on all returned items.
Items must be fully returned in the original purchase configuration. For example, a 4-pack of Absorption Sheets must be returned with 4 Absorption Sheets.
Only stocked items are returnable. This includes:

Peacemaker®
Absorption Sheets
isolé®
Door Seal Kits
Unused Hardware and Adhesives

Made-to-order items cannot be returned.
Starting your Return:
Complete the form below, and await return authorization.
Write your order number on the outside of your box.
Return or Ship to:

Audimute Soundproofing
Returns
23945 Mercantile Road, Suite H
Beachwood, Ohio 44122
We will process your return within 5 business days of receipt and issue a refund via the payment method used on the original order.
We want to make your return as easy as possible. Please feel free to call us at 1.866.505.MUTE.
*Failure to follow proper return instructions may lead to delays or denial of your return.
Below is a summary of shipping methods used by Audimute. For Free Shipping, we will choose the most efficient method. If you have a specific shipping preference, please select that method at the time of checkout. If you have any delivery restrictions, please call us at 1.866.505.MUTE.
| | |
| --- | --- |
| STANDARD SHIPPING (lower 48 states) | TIME IN TRANSIT (after production lead time) |
| UPS Ground | 1 - 5 business days |
| USPS Retail Ground™ | 2 - 8 business days |
| LTL Freight | 1 - 10 business days |
| Warehouse Pick Up | Call to schedule |
| EXPEDITED SHIPPING | TIME IN TRANSIT (after production lead time) |
| UPS 2nd Day Air® | 2 business days |
| UPS Next Day Air® | 1 business day |
| INTERNATIONAL SHIPPING | TIME IN TRANSIT (after production lead time) |
| UPS Standard | Varies |
| UPS Worldwide Express® | 1 - 3 business days |
Production Lead Time
| | |
| --- | --- |
| ORDER TYPE | GUARANTEED READY TO SHIP |
| Standard Sizes & Options | 1 - 5 business days |
| Personalized Sizes & Options | 5 - 10 business days (custom sizes, colors, fabrics, images) |
Shipping Details & Exclusions:
Free shipping applies to the lower 48 states and Washington D.C. only.
Shipments to Hawaii, Alaska or Canada will be calculated in your shopping cart during the checkout process.
Audimute operates on Eastern Standard Time (EST).
Excludes holidays and weekends.
We do not ship partial orders. The lead time for the total order defaults to the product with the longest lead time on that order.
All shipping times in transit are estimates and based upon typical carrier performance. For up-to-date information, visit these carriers' websites:
Personalized Shipping Solutions:
Audimute welcomes any challenge when it comes to delivering your order. We will work with you to identify the most efficient and effective options when you require a non-standard delivery such as:
Expedited
Multi-Destination
PO Box
Rural
APO / FPO
Drop Shipments
And more....
Warehouse Pick-Up:
Customers have the option of picking up their order from our warehouse. Please call us to schedule a pickup date and time to ensure your experience is quick and efficient.
Audimute Soundproofing
23945 Mercantile Rd., Suite H
Beachwood, OH 44122
UPS Ground Transit Time Map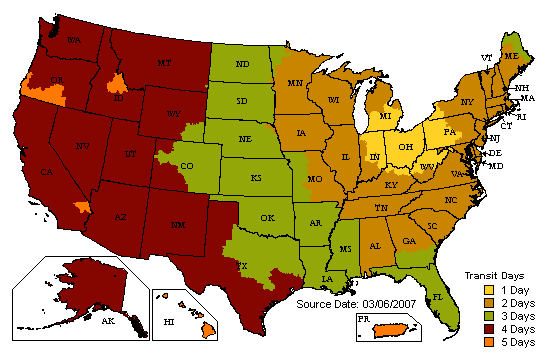 ---
Damages Policy
Audimute is constantly evaluating the best ways to have your product delivered to you quickly and safely. At times, packaging and/or product can be damaged while in transit despite our best efforts to safeguard them on their way. Please review the below policies regarding the inspection of your delivered order and product.
**Reports of product or packaging damage upon receipt must be made to Audimute within 72 hours or three business days of the delivery date of your order. Reports of damages outside of this time frame cannot be evaluated for replacement or refund.
For standard carrier shipments (i.e. US Postal Service, UPS, etc.)
Product that you have signed for or accepted should be inspected thoroughly upon delivery for any damages. We must be notified about any damages within 3 business days of you receiving your products.
At the time of delivery, if the packaging appears damaged on the outside, please refuse to accept it from the carrier and let us know immediately (by phone or email). Alternately, you can also accept the delivery but please ensure when signing the shipper's proof-of-delivery, that you include a note stating the package is or appears to be damaged.
If contacting us via email to report discovered damages, please be sure to include the name your order was placed under, the order number and a detailed list of any product damages. We do also ask that you send pictures of both the packaging (if there was visible damage to it) and the damaged product to assist us with any potential claim we may need to file with the carrier. A member of our Customer Solutions Team will respond to email inquiries regarding damages within 24 hours or one business day.
For freight carrier shipments (i.e. UPS Freight, Estes Express, Saia, Roadrunner, A. Duie Pyle, etc.)
If your shipment is being transported via freight truck, we want you to be aware of your rights and responsibilities as the end recipient (from here forward known as the "consignee").
There are a lot of things that can happen between our facility and your delivery location; therefore, we are asking you to do a very small amount of work to protect yourself, and us.
As the consignee, your signature on the delivering carrier's freight Bill of Lading (BOL) constitutes acceptance of the merchandise as is and in good order. If you do not inspect before signing, you are, for all practical purposes, waiving the ability to collect on a damage claim even if the damage is concealed.

Check immediately for possible damage during shipment. The National Claims Council Regulations specify that you must:

Inspect, examine and inventory your delivery as it's unloaded.
Any and all shortages and damages MUST be written on the Bill of Lading or Freight Bill before you sign it. Then Audimute must be notified immediately to report the problem.
You should open cartons and containers. If there is the slightest doubt that the merchandise is damaged, (concealed or not) it must be noted on the Bill of Lading or Freight Bill or the liability to prove the damage was done by the delivering carrier becomes the responsibility of the consignee.
Insist on inspecting the shipment while the driver is still at your facility. They cannot leave until the Bill of Lading or Freight Bill is signed.
Discovered Damage – if the box, crate, or merchandise is visibly damaged, refuse the delivery and contact us immediately via our Contact Us page or 1.866.505.MUTE so the merchandise can be shipped back to us at no charge.
Concealed Damage – in the event of concealed damage, you MUST immediately document and photograph (if possible) the packaging and the damage. You must keep the packaging. Do not move the items from your location, and contact us immediately to report the damage. We will begin a concealed damage claim and ask for an inspection by the carrier. The inspector will determine if the damage was possibly carrier caused.
Please note: if the consignee has signed for the shipment indicating there was no damage noted at time of receipt, the consignee would then have to take up their claim with the freight carrier if concealed damage becomes apparent after 3 business days of receipt. Many people order products in advance of need, and wait until it is being installed to check the condition of the product; in some cases weeks post-delivery of the shipment. In these situations, it is the consignee's sole responsibility to contact the freight carrier and pursue a claim.
Further measures that may help in any freight claim process include the following:
Taking digital photographs of the damage. If possible, photographs of the equipment still on the truck will limit the consignee's liability.
Call or email us immediately to report the damage and request we start a claim. Preferably, the call should be made before the driver leaves the site.
Request an inspector.
Keep a copy of the Bill of Lading or Freight Bill, noting the damage and the driver's signature. The Bill of Lading or Freight Bill is our only documentation of the condition of a load when it arrives at your site. Without this proof, we cannot hold others accountable for any damaged or missing items.