Guilford of Maine Fabrics

Audimute has partnered with Guilford of Maine to bring you some of the finest acoustic textiles on the market. Guilford of Maine has a rich history of weaving textiles that dates back to 1865, and they continue to reinvent themselves as their customers' needs evolve. We have hand selected fabric options from Guilford of Maine's product line to bring you colors and patterns that meet the needs of all spaces, from contemporary commercial spaces to comfortable residential space. If you don't see what you're looking for here, please feel free to click the view more image to see what other fabrics we offer. Lead times and pricing may change for certain fabrics. If you have any question please contact our Acoustic Specialists at 1.866.505.MUTE.

Proudly woven in North America supporting our local communities, providing shorter lead times and less environmental impact
All fabrics tested for Colorfastness to light, water, and abrasion
Made from post and pre consumer recycled polyester
Tested and met NFPA 260/UFAC Fabric Classification - Class I, ASTM E84 Class I or A
Does not impede, or reflect sound. All fabrics tested for Noise Reduction Coefficient or N.R.C.
---
Standard Fabrics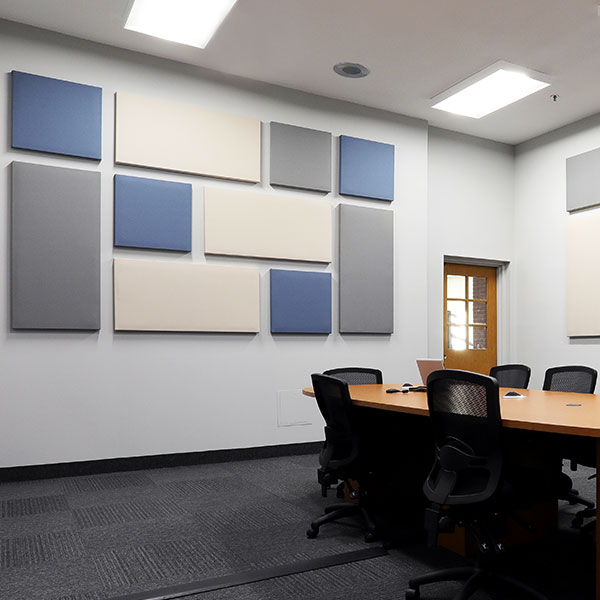 Create your own distinctive space with our standard line of fabrics. Browse the selection of high-quality color options manufactured with the finest acoustical fabric available in the market. Our Standard Fabric line consists of 16 selections from Guilford of Maine's Anchorage line, making it easy to match the décor of any space. This special line of Guilford of Maine fabric offerings is a customer favorite for acoustic panels.