Acoustic Tiles
Audimute acoustic tiles blend form and function to create a stylish space and sound. Browse our selection of fabric and color coated acoustic wall tiles, as well as Acoustic Shapes for a new shape of soundproofing!
---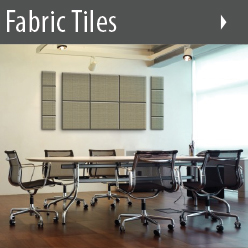 Straight & Beveled Edge
Your choice of traditional, designer, HC, or custom fabric is hand wrapped around frameless beveled or straight edge acoustic tiles. Fabric acoustic tiles permanently install flush against the wall, and rest almost seamlessly against each other for a scalable design.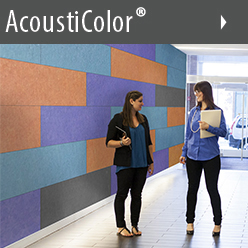 1000's of Color Options
These frameless acoustical tiles permanently adhere directly to your wall or ceiling. Choose from thousands of standard and custom color options applied directly onto our eco-C-tex® absorption material for a natural stone-like finish. AcoustiColor® acoustic tiles are also available in three thickness options, including .5 inch, 1 inch, and 1.5 inch thicknesses.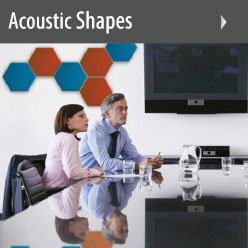 Multiple Shapes & Letters Available
Create extensible acoustic designs and patterns in a variety of tile shapes, colors, and thicknesses. For even more acoustic control, alternate acoustic shape tile thicknesses within your pattern to introduce a blend of sound absorption and diffusion into the space.

Audimute acoustic tiles are a unique sound treatment designed with your personal style in mind. With acoustical tiles, there's virtually no limit to what you can create. Mix and match your favorite fabrics, colors, thicknesses, and shapes to create a scalable design and acoustic treatment unlike any other. Acoustic tiles adhere directly to the wall or ceiling for a permanent solution to many common sound issues, including echo, reverberation, and loud or excess noise.
For more information about Acoustic Tiles or other products such as Acoustic Panels, or for help deciding on a treatment plan, call an Audimute Acoustic Specialist at (866)505-6883.
Related Products / Accessories
Find the perfect accent or sample piece for your acoustic tiles and panels with Audimute's related products and accessories.
---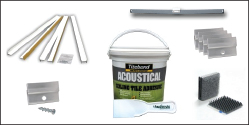 Designed for Audimute products
Quickly install acoustic tiles and wall panels with panel clips, security clips, or corner mounts specifically crafted for our panels. Audimute also carries an adhesive product perfect for bonding acoustical tiles directly to walls and ceilings.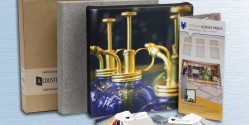 Try before you buy!
See our sample packs, with acoustic tiles and panels, and learn about available rebates.
Alternative Products
Looking for something different? Check out more acoustical solutions and designer pieces from Audimute.
---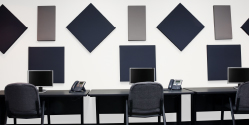 Standard fabric sound treatments
Classic panels wrapped in your choice of customary, luxury, and designer acoustic fabrics for a finished look unique to your space.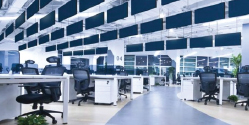 Clouds, Baffles, & Tiles
Ceiling acoustic treatments come in a variety of shapes and styles. See all of our options here.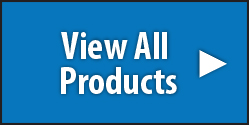 Panels, tiles, and custom options
View all that Audimute has to offer.