Audimute's AcoustiColor Letters are a completely customizable addition to your wall décor. Choose your letter, size, and color to create custom word wall art that blends naturally or stands out in your existing décor. We chose our fonts with these same customer needs in mind. Combining aesthetics with functionality, our custom word wall art letters look great while introducing sound absorption materials into your space.
Fill out and submit the form below or call 1.866.505.MUTE for a quote.
Standard Font Options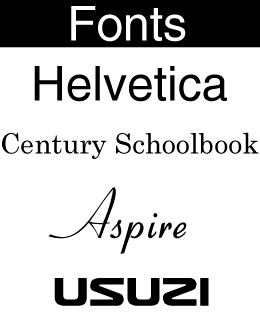 For custom coating options and more information, give us a call, 1.866.505.MUTE, or fill out the form and one of our Acoustic Specialist will assist you.
Every AcoustiColor product purchase includes an AcoustiColor Touch Up Kit, because bumps and dings happen. This all-in-one paint touch-up kit is specially formulated to provide long-lasting repairs to small nicks, scratches, and chips with a simple squeeze of the enclosed bottle.
Non-Toxic


Worry free installation

Fire Rated
Class A (ASTM E84)
Eco-Friendly


100% Recycled

High Performance
Interdependently Tested