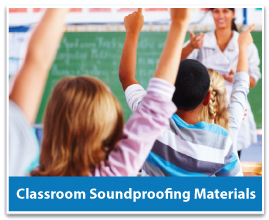 In honor of Teacher Appreciation Week, we wanted to take the time to acknowledge the dedicated and impactful champions of our nation's education.
Education is a foundational necessity to human growth and success. With so much on the line, educators and educational leaders are constantly trying to develop and employ new and effective ways of teaching and promoting academic success.
As sound solution experts, we're particularly focused on classroom acoustics. It's imperative that educators are able to convey their lessons in an environment that students of all ages are capable of hearing, focusing, and retaining information.
The sound quality in classrooms, lecture halls, and auditoriums matter.
In late 2014, the Wall Street Journal shared the results of a study that tested the effects of classroom soundproofing materials on students' learning and understanding. The study, performed by Applied Acoustics, found that a classroom with effective, high-quality soundproofing, sound-absorbing materials will see positive changes in student learning.
• 86% of students said they heard the teacher more clearly>
• 66% of students said it was easier to concentrate on lessons
Overall, this study shows the positive changes acoustic tiles make in regards to echo, reverberation, and speech intelligibility. What it also does is bridge the gap between the effects of acoustic panels for classrooms on students and what they mean for teachers.1
A powerful 2012 survey conducted by the Danish National Research Centre for the Working Environment showed 23% of teachers working in schools with poor acoustics were considering leaving their jobs. The most commonly cited reason is the additional stress caused by excessive noise and reverberation in the classroom.
Additionally, teachers found themselves continuously straining their voices to be heard over the high noise volumes. Because of this, teachers would experience long- and short-term voice issues, such as hoarseness and lower vocal ranges. By simply including acoustic treatments into the design and layout of classrooms, schools can show the responsibility they take over their employee's health and safety and student learning.2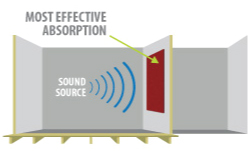 Acoustic panels for classrooms are designed to absorb the noise bouncing off hard surfaces like desks and chalkboards. This reduces both the sound pressure in the classroom and the volume at which a teacher must speak at in order to be heard. This creates a more cognitive classroom for students and a less stressful work environment for educators.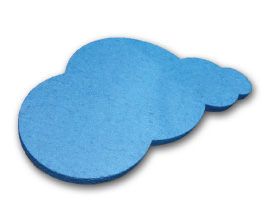 Every noise issue is different. Audimute Acoustic Panels offers a range of classroom soundproofing materials in:
• Customizable sizes
• Various finishes, including image, fabric, and paint coatings to provide unique acoustic treatments for every application
We construct our panels from our signature eco-C-tex™ recycled material, the greenest sound absorption product on the market and safest alternative to competitor's fiberglass fillers. Our panels are NRC rated for sound absorption capabilities and Class A fire rated for safety in commercial spaces.
We understand the positive change acoustic solution materials bring to a classroom.
Our Acoustic Specialists are here to answer any questions and offer personalized advice for your school or classroom today. Give us a call at (866)505-MUTE or fill out our free room analysis form.
From all of us at Audimute Acoustic Panels, thank you for all of your hard work at educating the minds of the future.
Resources:
1 The Wall Street Journal. "Boosting Students' Learning With Soundproofing." Accessed April 26, 2016. http://www.wsj.com/articles/boosting-students-learning-with-soundproofing-1418061926.
2 Nielsen, Mathias Hedegaard. ScienceNordic. "Poor classroom acoustics drive teachers away." Accessed April 26, 2016. http://sciencenordic.com/poor-classroom-acoustics-drive-teachers-away.