Reduce the Noise At Your Home

---
Eliminate Home Noise Problems with Acoustic Room Treatments
Ever notice how everyone seems to gather in the kitchen? Do you have a living room, recreational space, dining room, or hallway where the echo of conversations and other sounds become a distraction? You can reduce this unwanted noise at home with acoustic room treatments using Audimute's acoustic panels. Made from all-natural materials, our standard and custom acoustic room treatments absorb sound waves, preventing the echoes and reverberation that causes much of the unwanted noise at home. For more product information and recommendations check out our Buyer's Guide Acoustic Room Treatments here.
One Audimute customer, whose large kitchen had high ceilings lots of wall space, realized that an acoustic room treatment using acoustic absorption panels would improve the acoustics in the room. The family chose Audimute's Acoustic Panels "based on effectiveness, cost, and appearance" and installed the panels themselves.
Kitchen Acoustic Room Treatment: A Customer Testimonial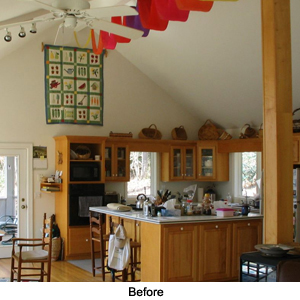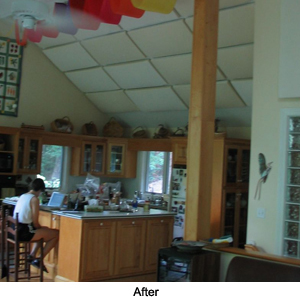 "Dear Audimute,
As you can see from the first photo, our home has tall ceilings and lots of open space. Unfortunately, the space was an echo chamber that only got worse when we made some changes to furniture and rugs.
We purchased twenty Audimute panels in white with the intention of building some panels that could be placed on the ceiling and easily removed....
Before our Audimute panels, a fork tapping the kitchen countertop could be heard vibrating throughout the house. Conversations and music were nearly impossible. Now we have a quiet house without vibrating sounds and wonderful music in this space. We had looked at acoustic tiles but decided it was too costly and too ugly. Our panels are hardly noticed by people visiting, but when they are noticed, people find them a soft addition to the space and not the least obtrusive. We are very pleased with our panels.
Thanks,"
-- Milt & Carolyn, Asheville, NC