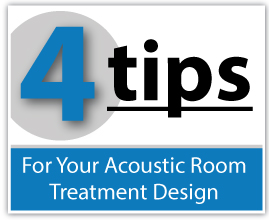 Is an exceptional sound experience possible without sacrificing style?
At Audimute Acoustic Panels, we're a design driven company on a mission to create, innovate, and push the envelope with acoustic treatments for any space and function. Our custom and gallery acoustic image panels are the latest products that set out to enhance your décor and invigorate any decorative environment.
With acoustic panels as your canvas, check out some of the hottest designer looks and trends with an acoustic twist.
Acoustic Room Treatment Design Ideas:


1. Think beyond a single row across the wall. Use graph paper to sketch out a variety of sizes and colors of panels, arranged in an attractive configuration.

2. Want to match or compliment existing colors already in your interior design scheme? Acoustic panels are a great way to add a pop of color to your space, so don't settle for just any acoustic panel color. AcoustiColor™ acoustic panels and tiles empower you to match or compliment your existing scheme with any Sherwin Williams' color.

3. You could say that image panels are the "latest and greatest" development in the acoustic treatment world. At Audimute, we love them for their ability to effectively personalize any space. Choose a theme and select from a variety of image panels that match your desired atmosphere. For a more personal touch, upload any image and see it brought to life on an acoustic panel. It's not an acoustic treatment anymore—it's an art gallery fit for every space from a branded company conference room to a custom design home theater.

4. Using the same size acoustic panels is a beautiful classic touch—but isn't using a variety of sizes more fun? Careful planning and placement of acoustic panels can enhance the interior design characteristics of your space. In some spaces, the panels can even become the design focus. In the example above, the addition of an arrangement of acoustic panels to a large blank wall added life and movement to the space, while also making the wall the focal point of the room.
Create your own Acoustic Room Treatment Design!


With a little planning and a good sense of the design possibilities, introducing acoustic treatments to your beautifully designed home, gallery, restaurant, office, classroom, or custom design home theater can become an opportunity for expression.
To learn more about Audimute's panel design styles and options, call an Acoustic Specialist at (866) 505-MUTE– or fill out our free room analysis form to receive personalized advice for your space in no time.