Customer Showcase: Carter McLean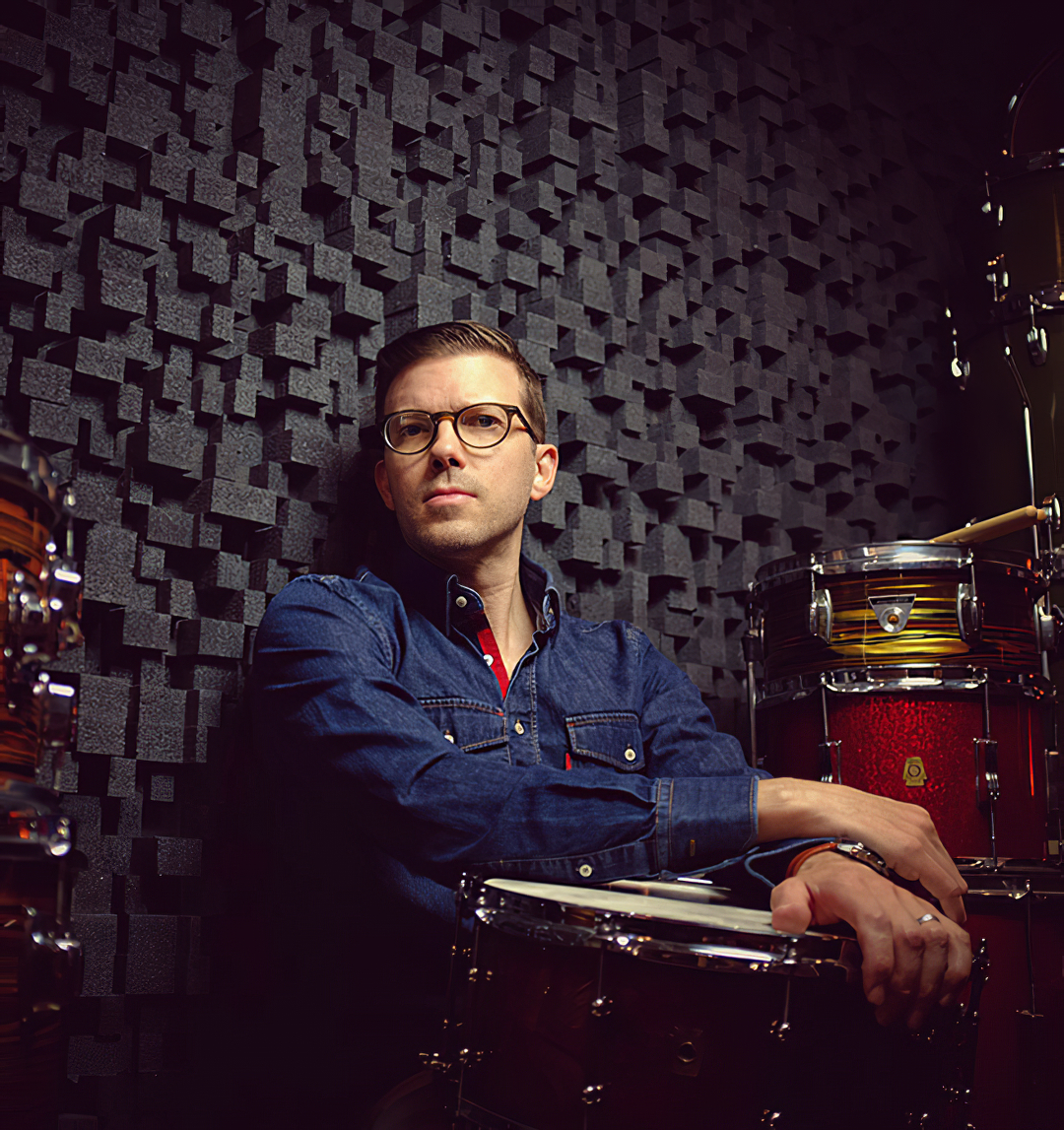 Carter was born in San Francisco and shortly thereafter moved to Connecticut. This is where McLean listened to and fell in love with music and especially the drums. At age 10, he started his journey as a musician. Broadway wasn't even on his radar when he started working at Manny's Music in Manhattan just prior to 9/11. The self-taught musician had just wrapped up his studies at University of Colorado, Boulder and was hoping to land a gig with someone like Sting, Peter Gabriel or Paul Simon. But then, while working his shift and playing at the store, he got noticed by a vet of Stevie Wonder's band Dennis Davis and got invited to play with legendary musician Roy Ayers in Harlem. While touring with Melvin Sparks in 2002 McLean was approached to be a sub at The Lion King in NYC. This eventually lead to McLean taking over the chair at the hit show in 2011.
From Charlie Hunter to the Lion King on Broadway, McLean has been busy touring and doing studio work as well as having a busy teaching schedule. In addition McLean has shared the stage or recorded with Jamie McLean, Greg Holden, Charlie Hunter, Victor Wooten, Anthony Hamilton, Bernie Worrell (Parlament Funkadelic), Fred Wesley (James Brown), Shelby Johnson (Prince), Melanie Gabriel (Peter Gabriel) Leni Stern, Matt Duke and many others.
When Carter decided to build his dream studio, he called Audimute. We worked together to design, manufacture, and install Audimute solutions culminating in a one-of-a-kind studio that looks and sounds amazing.
Links:
The Problem
Carter had been using Sound Absorption Sheets in a bedroom/home studio for years with great success. Visually, the Sound Absorption Sheets provided a flat background for video production and their affordability enabled him to cover more wall for background consistency and a broader range of shot options. Acoustically, Carter was very pleased with how the Sound Absorption Sheets enabled clean drum and video recordings without room affect (i.e., flutter echo and reverb). When the opportunity arose to transform his garage into a new studio, Carter called Audimute to expand on his success with Sound Absorption Sheets and create a unique sound solution.
The Integration
Having built an operational model of Mass Customization, Audimute responded with a unique idea, design Carter's garage studio with a new, disruptive concept that would change profoundly how musicians (and beyond) think about their spaces. Carter's studio would become the catalyst for acoustical and decorative personalization which has never been seen before.
Audimute worked closely with Carter on a project plan which started with Audimute Design Services to render his space virtually. After his space was rendered, Audimute presented Carter with different options, including some new solutions that did not exist yet. Carter wanted a simple, natural vibe, background options for video, clean sound for recording, and a solution that would blend well with decorative elements (i.e., 100-year-old wood beams) he already procured for the space. The virtual model also served as a design plan for contractors.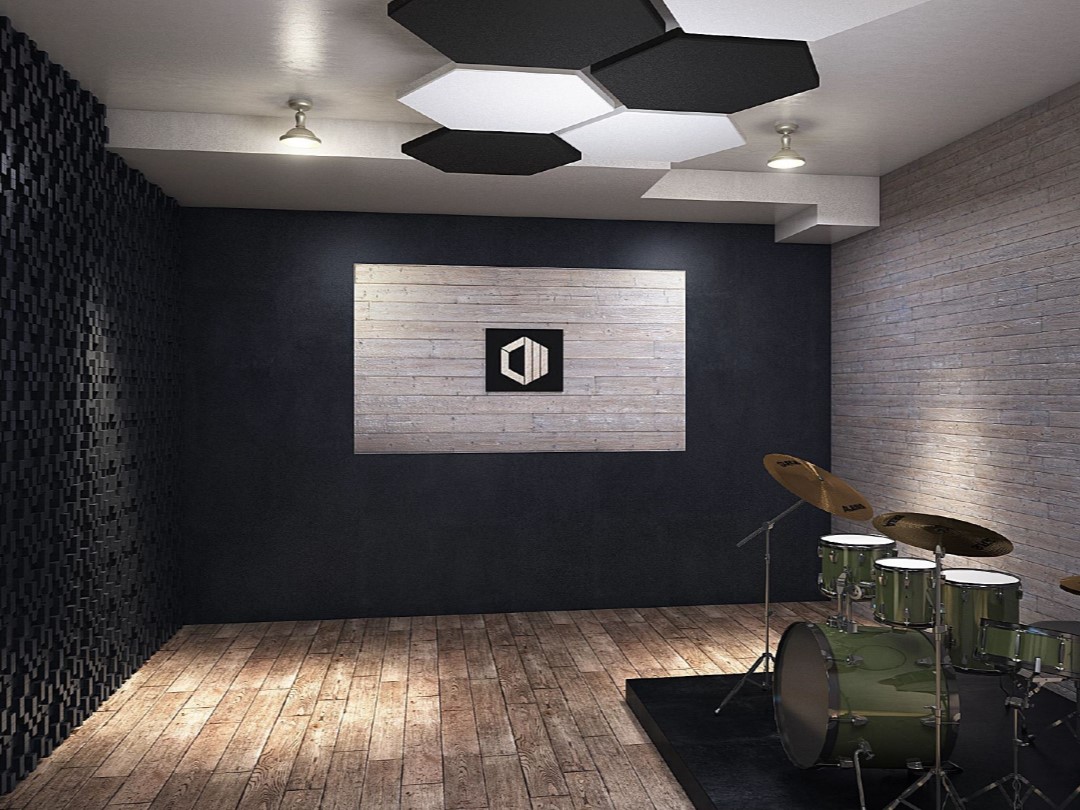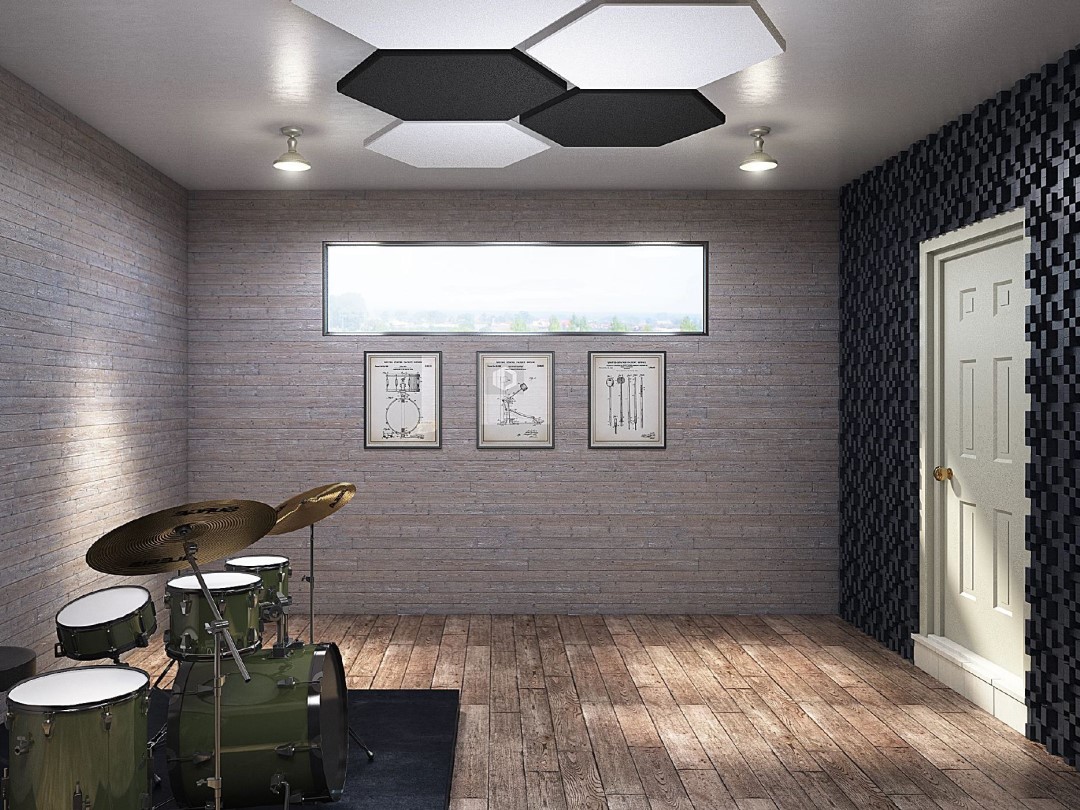 The Solution
To help prevent sound from entering and exiting the studio, Peacemaker® Sound Barrier was used in the floor and walls.
Sound absorption products were used on the walls and ceiling to make the room sound great. Audimute Strata® (Style: Cityscape) and AcoustiWood® Acoustic Wood Alternative Planks (Custom Style: Carter Grey) were two solution "firsts" for Audimute and provided the most acoustic coverage.
Carter's recent Signature, Promark Stick engineering drawing, a drawing of Carter's logo, and inspirational drummer photos would become Custom Image Image Panels as spot treatment on a wall, while Custom Fabric Acoustic Shapes – Polygons would become direct mounted acoustic ceiling clouds. Additional Custom Acoustic Shapes were used to create Carter's logo, and studio brand with AcoustiColor® Letters.
The Outcome
"It is so quiet in here … I can just hear the instrument." - Carter McLean
Carter's Studio was a remarkable success, perfecting form, and function in a unique, personalized way. It took concepts, dreams, and aspirations, and made them real. The Studio represents how spaces can enable musicians to do their best work.
Carter McLean's Drum Studio has drawn accolades from both professional and amateur drummers alike and continues to inspire drummers around the world. The quality recordings Carter can produce in the space is truly impressive. It resulted in one of the highest complements one could hope to hear in the sound management business.
Audimute has continued to work with Carter to upgrade his space with new sound solutions for a fresh look. The first upgrade was Premium AcoustiWood Panels (Panel Style: Aged Medium Oak), which were used as a functional background for a new drumming educational video series. The most recent upgrade was Premium AcoustiStone™ Tiles (Tile Style: Charcoal Smooth Marble).
Installation
Carter created an incredible documentary of the entire Drum Studio Garage Build.
Please reach out to one of our knowledgeable Acoustic Specialists via chat, fill out our Free Room Analysis Form, or call 866-505-MUTE for assistance with creating a personalized acoustic treatment.