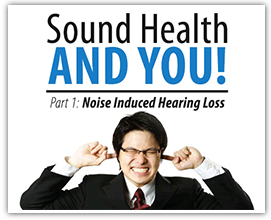 Sound, as wonderful as it is, can be harmful to your hearing at high intensities. We bet you already knew this. But even sound that is extremely loud for a just a moment can be damaging. According to the National Institute on Deafness and Other Communication Disorders (NIDCD), powerful, intense sounds can damage sensitive structures in your inner ear and cause noise-induced hearing loss (NIHL).1 To bring awareness to this condition and other sound-related issues, we're kicking off a three part series called Sound Health + You.
Noise Induced Hearing Loss
While hearing loss is most commonly attributed to aging, noise induced hearing loss happens to children and adults. According to the Center for Disease Control and Prevention, approximately 15% of adults between the ages of 20 and 69, and 16% of teens ages 12 to 19, have reported some degree of Noise Induced Hearing Loss (NIHL) caused by exposure to loud noise without wearing proper hearing protection.2
Sound alarming? That's because it is.
There is no grading scale for what can cause hearing loss; it can be a one-time exposure to an intense sound, such as an explosion, or by continuous exposure to loud sounds, such as working in a factory, working with power tools, or even listening to music through head phones at a high volume every day.
"It is the sum of all of your exposures to sound throughout the day and evening that add together to damage hearing when that total becomes excessive," notes Janet Ehlers, RN, MSN, COHC and Pamela S. Graydon, MS, COHC of the CDC.2
NIHL is the only type of hearing loss that is completely preventable. Noise induced hearing loss in adults is commonly attributed to work environments. Understanding the health hazards of over exposure to loud noises is the first step to protecting your hearing.
Tips for Hearing Health
• Wear earplugs or sound cancelling headphones when involved in a loud activity
• If you can't reduce a noise or volume, move away from it
• When listening to music, use the 60/60 rule: use 60% of the maximum volume for no more than 60 minutes a day
• Have earplugs on hand for your children when planning high-volume activities
• Talk to family, friends, and colleagues about the risks of loud noise exposure
• Have your hearing tested if you think you might have hearing loss School auditoriums and gymnasiums are notorious for loud noises – causing hearing loss in elementary school children. Consider speaking with your child's principal about hearing health and possible acoustic treatments, like ceiling baffles or frameless acoustic panels, for child safety.
Noise Induced Hearing Loss Signs and Symptoms
Symptoms of noise induced hearing loss in adults and children may go away in minutes, hours, or days after the noise ends. It's important to recognize the signs early so you are able to avoid exposure to other loud noises while your ears are already impaired, as this can cause more severe damage.
Symptoms of Noise Induced Hearing Loss
• Feeling of pressure or fullness in your ears
• Muffled or distorted hearing
• Ringing in the ears when in quiet places
• Difficulty understanding phone calls
• Inability to hear someone talking three feet away
If you're experiencing trouble hearing in your home, or simply wish to improve sound quality, call an Audimute Acoustic Sound expert at (866) 505-MUTE for personalized advice on soundproofing and acoustic solutions for your space.
And don't forget to check back next week for part 2 of our 3 part series on hearing health.
Resources: 1 National Institute on Deafness and Other Communication Disorders. "Noise-Induced Hearing Loss." Retrieved on April 12, 2016. https://www.nidcd.nih.gov/health/noise-induced-hearing-loss#1. 2 Ehlers, Janet, RN, MSN, COHC and Graydon, Pamela S. MS, COHC. Center for Disease Control and Prevention. "Even a Dummy Knows October is Protect Your Hearing Month." Retrieved on April 12, 2016. http://blogs.cdc.gov/niosh-science-blog/2012/10/11/protect-hearing/.