Hospitals, emergency rooms, doctors' offices, and other healthcare facilities are wild with activity at all hours. On top of this, healthcare settings are built to be sterile. This means that most surfaces are made of hard, non-porous materials, such as cement, concrete, ceramic, linoleum, vinyl, etc. All of these surfaces don't play nice when it comes to acoustics, enabling sound travel, echo, and heightened noise levels.
But with the sensitive and stressful environment that healthcare facilities foster, it's beneficial to staff, patients, and visitors alike that the acoustics are transformed into soothing, pleasant sounds.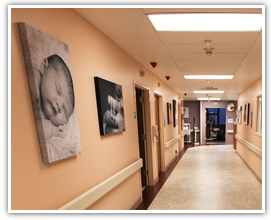 The Importance of Acoustics in Healthcare Settings
A healthcare environment's acoustics play a critical role in promoting:
• Healing
• Rest
• Comfort
• Safety
• Well-being
• Speech privacy
Poor acoustics have the power to negatively affect a patient's and/or a patient's family physiological and psychological state, according to Ceilings & Interior Systems Construction Association's report on Acoustics in Healthcare Environments.1
Designing a Better Acoustic Experience and Environment
Sound pressure, background noise, and reverberation time are all acoustic issues that plague most healthcare facilities. At Audimute Acoustic Panels, we've addressed all of these issues with healthcare approved fabrics.
What do we mean by this? HC fabrics are bleach-cleanable, a necessity in the healthcare environment. And while bleach-cleanable fabrics are great, it is truly the acoustics that make all the difference. Whichever sound solution you choose, we can help you blend it into your environment so it's nearly invisible, or we can help you customize your baffles, clouds, tiles, or panels to fit your facility's style.
• Take your sound solution up high and hang HC Acoustic Celling Clouds and baffles from the ceiling.
• Make your walls more aesthetically pleasing by adding Custom Image Acoustic Panels or tiles to patient rooms and hallways.
Not sure which solution is right for your healthcare facility? Contact us today to speak to one of our sound solution experts.
Shop our vast selection of acoustic ceiling baffles and clouds and acoustic panels and tiles.
Resources: 1 Ceilings & Interior Systems Construction Association. "Acoustics in Healthcare Environments." Retrieved on April 14, 2016. http://www.cisca.org/files/public/Acoustics%20in%20Healthcare%20Environments_CISCA.pdf .