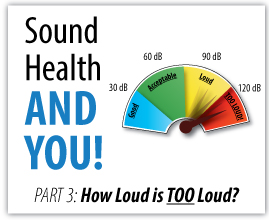 Whether it's noise induced hearing loss or hearing changes with age, sound intensity and volume plays a prominent role in maintaining or altering hearing health.
Our lives are noisy and undeniably surrounded by sound. With so many sound frequencies hitting our ear drums, it's important to know at what level sound becomes damaging.
So how loud is too loud?
Everyone experiences sound differently, making pain from noise volumes subjective. However, just because a sound doesn't initially hurt someone's ears doesn't mean it isn't doing irreversible damage.
According to Hear the World Foundation, "even low noise levels can trigger the release of stress hormones, leading to increased blood pressure. This in turn can lead to aggressive behavior and tensions in interactions with other people, as well as an increased risk of stroke, heart attack, and tinnitus."1
Bottom line, sound levels affect us in many ways – most of which are overlooked.
Common Sound Pressure Ratings:
Sound level intensity is measured in decibels (dB). When a sound increases by 10 dB, our ears perceive it as twice as loud, meaning 50 dB is twice as loud as 40dB. A normal conversation rating is 60dB. Here are eight common sound pressure ratings:
• Normal conversation - 60 dB
• Heavy city traffic - 85 dB
• Motorcycles - 95 dB
• Metal shop – 100 dB
• MP3 player max volume - 105 dB
• Chainsaw – 120 dB
• Sirens – 120 dB
• Firecrackers and firearms - 150 dB
Using an adapted example from Hear the World Foundation, imagine you and a friend are standing 3 feet apart:
• At 70 dB, a conversation can be held at normal volume
• At 90 dB, conversational voices must be raised
• At 100 dB, a conversation must be shouted
• From 105 dB and above, conversation is no longer possible1
The maximum recommended sound level intensity time per day is 8 hours at 85 db, roughly the sound of a busy street. For every 3 dB noise pressure increase, that maximum exposure time is cut in half, meaning at 95 dB (around the recorded level of factory work) the recommendation is only 4 hours.
So how can your hearing be protected?
Protect Your Hearing
Wearing protective gear like ear muffs or installing soundproofing and acoustic treatments can make all the difference in the longevity of your hearing health.
Do you live in the city? Do you live near an airport, fire station, or factory? Do you work in a repair shop, manufacturing plant, or around loud machinery? You can block or absorb sound waves before they're able to reach and injure your ears with powerful solutions like:
• Acoustic ceiling clouds and baffles
All of these sound solutions can be completely customized to fit your space, style, and needs.
Want to incorporate soundproofing into a space you're building? Check out Peacemaker®, Audimute's versatile sound barrier. Made from recycled rubber, Peacemaker offers both the professional and DIY builder an easy to install, reasonably light, and very effective noise barrier.
It's impossible to always avoid dangerous sound level intensity, but it is possible to protect yourself from it.
If you're ready to protect your hearing health at home or work, but you're unsure where to start, call an Acoustic Specialist today at (866) 505-MUTE for personalized advice.
Resources:
1 Hear the World Foundation. "How Loud is Too Loud? When Does Noise Become Dangerous?" Accessed April 26, 2016. http://www.hear-the-world.com/en/hearing-and-hearing-loss/noise-how-loud-is-too-loud.html.