Acoustic Shapes - 12 Pack
Ships In: 10 Business Days
More Information

| | |
| --- | --- |
| SKU | GA-100-100 |
| Fire-rated | ASTM E-84, Class A Rating |
| Hardware Included | None |
Acoustic Shapes - 12 Pack
Acoustic Shapes combine aesthetics with acoustic performance. Audimute's 3D Wall Tiles break up hard surfaces decoupling sound waves. Designer Shapes are made with our eco-C-tex® absorption material. Create designer tile patterns with varying depths or flush designs. Tiles can be spaced apart or tightly fit together.
Acoustic Shapes are available in several standard color options or you can choose your own custom color. Find a color that matches your existing décor or select a color that will be the focal point in your space. Browse colors on Sherwin Williams' website and enter the color option you love in the field above.
Bring your wall art ideas to life by adding acoustic designer shapes to any space. They are perfect for adding an artistic touch to your home office space in addition to promoting a positive acoustic environment. Acoustic Shapes are great for commercial spaces too! Build your acoustic design in high traffic areas to bring a designer look that helps to reduce the busy sounds of your space.
Give one of our acoustic design specialists a call at 866-505-MUTE to discuss your wall art ideas.
Acoustic Shapes
AcoustiColor® Touch-Up Kit
Every AcoustiColor® product purchase includes an AcoustiColor Touch Up Kit, because bumps and dings happen. This all-in-one paint touch-up kit is specially formulated to provide long-lasting repairs to small nicks, scratches, and chips with a simple squeeze of the enclosed bottle.
NRC Rating vs. Durability
The relationship between durability and absorption, and the role this plays when selecting the best Acoustic Tile option for your space, is often misunderstood. The graph below illustrates how product thickness affects both durability and acoustic performance.
When selecting the right product, it's important to consider the area that you are treating. Will your Acoustic Tiles be placed in a high-traffic area? If yes, one of our more durable Acoustic Tile thicknesses may be a better option to consider.
Still have questions? Contact one of our Acoustic Specialist today.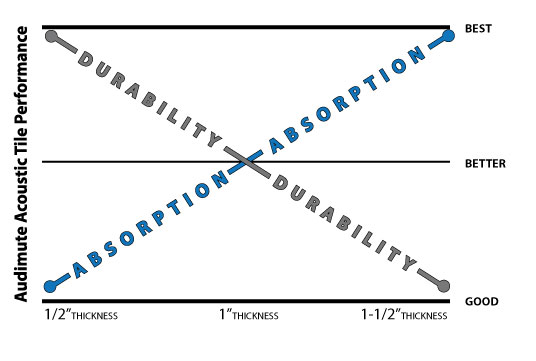 AcoustiColor® Appealing Texture Variations
Known for its natural bands of texture playing throughout, the final appearance of AcoustiColor® products have normal irregularities that are considered part of the appeal. Variations in the appearance of texture and shading for example, create a distinctively interesting character that makes AcoustiColor so unique.
This product delivers the aesthetics of rustic natural stone; therefore, variations are both normal and desirable. Key characteristics are a dense yet porous fine-grained appearance. Each piece is unique with textures occurring naturally.
Cut Sheets - View our Acoustic Tile cut sheets here.

1.5" Thickness - 0.95 NRC View 1.5" Sound Lab Report

1.0" Thickness - 0.75 NRC View 1.0" Sound Lab Report

0.5" Thickness - 0.55 NRC View 0.5" Sound Lab Report

eco-C-tex™

sound absorption material consists of a blend of recycled cotton and cellulose fibers - the majority of which are post-consumer recycled newspaper and requires an astounding 1/10th of the amount of energy to produce compared to traditional fiberglass.

Safe for your health

. - Non-toxic, non-carcinogenic, no fiberglass.

Class A Fire-Rated (ASTM E84 Class A) The materials used in our acoustic tiles have received the highest rating possible under the ASTM E-84. Learn more.

Our Acoustic Tiles are designed to be mounted to a surface using either a construction-grade adhesive, or mechanical fasteners.

Want to create a sound solution that's totally unique to your space?

We have experienced designers ready to empower you to create your own soundproofing solution. The possibilities are endless with custom images, sizes, shapes, finishing, and framing options. Ready to get the ball rolling?

Reach out to one of our Acoustic Specialists

-

the

experts at creating Sound Experiences Everywhere®