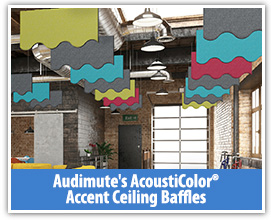 Sound solutions just got edgier. With the launch of our AcoustiColor Accent Ceiling Baffles featuring three new styled edges, you can take your design possibilities in a whole new direction. Whether you're establishing simplicity in your space or looking to make a dramatic statement with your sound solution, these new AcoustiColor Accent Baffles will bring any ceiling to life, according to your design motif.
Bring the City to Life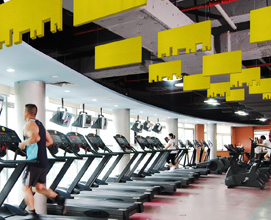 These individually crafted, non-traditional baffles seek to not only control reverberated sound and reduce unwanted noise, but to also represent a city's iconic skyline. You can take these baffles in a number of design directions.
Make Some Waves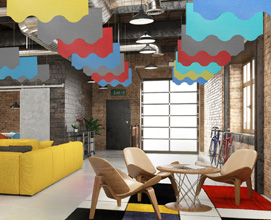 Create a free-flowing feel in your space with these wavy acoustic baffles.
• Hang them in straight lines along your ceiling to create a smooth waved look.
-or-
• Hang them in a staggered pattern along your ceiling to create an edgier, boisterous design pattern.
Think Outside the Box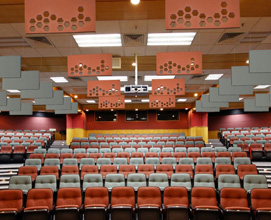 Turn heads upward by creating a geometric inspired atmosphere with these AcoustiColor Accent polygon-edge Baffles.
• Place the same polygon design on every acoustic baffle you order.
-or-
• Mix and match whole rectangle acoustic baffles with these polygon-edge baffles.
Complete your geometric theme by adding Audimute Acoustic Shapes polygon acoustic tiles to your wall.
The best design news yet? As with all of our acoustic solutions, you can match them to any Sherwin Williams paint color with the AcoustiColor® option.
Get in touch with one of our Sound Solution Experts today at (866) 505-MUTE to discuss your unique space, sound issue, and goals for creating a remarkable acoustic experience.