---
At Audimute, people frequently ask us if there is any way to provide open office noise reduction, and the answer is yes! Take the question from one of our customers below as an example:
Q: I work in a space that has several offices in which people are always talking on the phone and to students in person, causing a lot of open office noise. If doors are open or people are talking in the halls, sound just bounces off all of the parallel walls. There are very few sound absorbing things are in this area. What can we do to keep the noise down other than get a few plants and a few pillows on the couch?
A: Too much noise pollution can be distracting and increase stress levels. Introducing sound masking materials can soften open office noise, create a productive environment, and give individuals more cubicle privacy.
The simplest open office noise reduction solution would be acoustic panels. Acoustic panels placed around your office will help to reduce the reflection of sound off of the wall, in turn lowering the sound pressure levels in the room and stopping loud echoes and reverberations. In other words, these will help to make your space quieter and less chaotic sounding.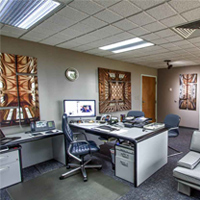 The general rule of thumb for an office space is to have 10-20% of your treatable wall surface treated with panels. You also want to have panels placed in areas that are going to be most beneficial, such as close to office doors and around desks. When installing these panels, try to place them about 3-6' off the floor – this is where most of the sound is both generated and heard so it will make the biggest impact on the sound.
For large scale applications such as this, we offer acoustic panel starter kits for both standard and large room sizes and deluxe package options. These bulk kits make purchasing a range of sizes easier and more affordable.
Audimute Acoustic Panels are designed for commercial and residential spaces. Acoustic Art Panels are available in standard and custom color prints, fabrics, and sizes that look great in any application. Call an Audimute Acoustic Specialist today at (866) 505-MUTE to discuss the best acoustic approach for your space.
Got a question for an Acoustic Specialist? Ask us anything!