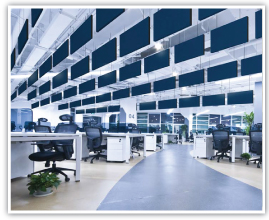 Open, collaborative office space seems to be the new way of life for most businesses. With walls, cubicles, and partitions stripped away, the idea is that:
• Employees benefit from free-flowing brainstorming and communication with colleagues
• Business objectives and pursuits become more innovative
• Expenses tied to office equipment, construction, and utilities dwindle
What's not to love? Heck, the offices of Google and Facebook basically pioneered this unfastened environment. The trend has caught fire and it seems as though (most) businesses around the world don't believe in closed-door, work-place barriers anymore.
The downside? Noise.
Yes, the challenge that comes attached to an exposed environment is the acoustics. So, back to our initial question: What's sound got to do with it? Well, quite a bit.
Conversations, phone calls, meetings – and that co-worker that always plays his music too loud – combine to create distractions and a clutter of noise in today's open office. But before you decide this open office layout just ain't workin', look up. Your ceiling is about to become your solution.
Drown out echoes and excess noise with high-quality, eco-friendly acoustic ceiling baffles. A wide selection of cover material will help add style and customization to your sound absorption efforts. Choose from:
• Standard or designer acoustic baffle fabrics, which give your space a simple yet sophisticated look
• Custom color or custom image acoustic baffles, which are perfect to place company colors, logos & quotes on
• Acousticolor™ sound baffles, which match any Sherwin-Williams shade
At Audimute, we help businesses of all shapes and sizes find the right solution for their unique sound problem. Unsure which solution is best for your open office? Contact us today. In less than 15 minutes, one of our sound solution experts will be able to understand your space and recommend a solution.
Shop our vast selection of acoustic ceiling baffles. Here's to your quieter open office environment.