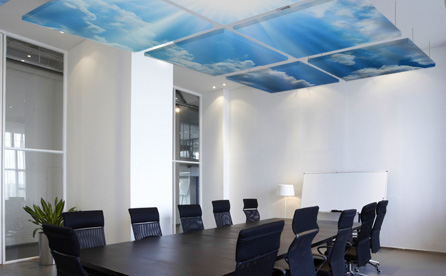 What is an acoustical ceiling cloud?
Ceiling clouds are designed to effectively reduce reflected sound in large and open environments as well as to delineate space. Stylish lines and soft shapes suspend horizontally from the ceiling and absorb sound across their entire surface for unequaled acoustical performance.
Ceiling Clouds create a modern appearance combined with noise reduction and reverberation control in most environments including residential and commercial spaces. Along with exceptional sound absorption and superior aesthetics, clouds feature outstanding architectural design flexibility and visual interest.
Are there other ways to perceive space?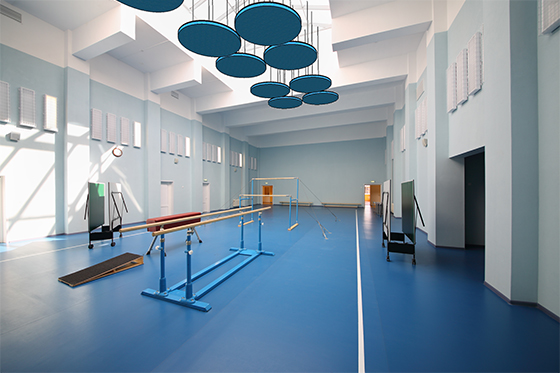 Walls are perhaps the easiest and most recognizable architectural elements that define a room. Current design trends are focused on rooms that flow into one another without visual obstacles. Clouds are a subtle yet distinct method of delineating the differences that exist between areas.
How is a ceiling cloud different?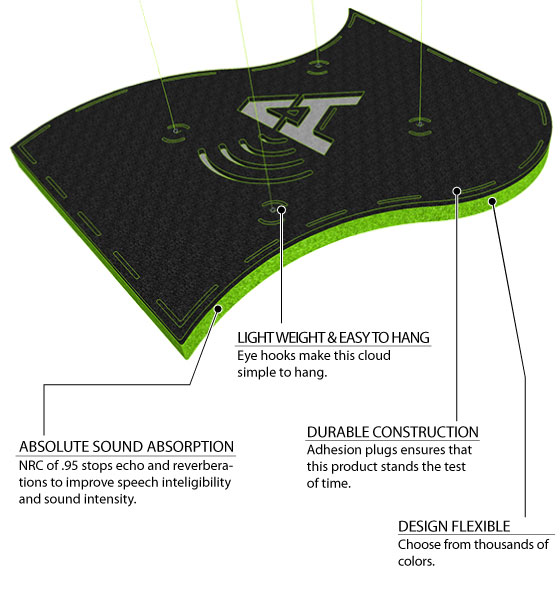 There is an acoustical benefit to exposing the backside of clouds. More air heightens the panel's ability to capture and convert echo from the open space.
Acoustic clouds are hung parallel and offset from the ceiling allowing them to absorb sound waves at two points. Sound absorption occurs as sound travels toward the ceiling and then again as it bounces back to the floor. This dual-absorption ceiling cloud reduces echo and dampens noise.
Key Features:
• The perfect soundproofing solution for areas with limited wall space
• Dual sound absorption
• Define spaces and accentuate a feature area
• Mix and match sizes and shapes
• Custom configurations available
• Suspend individually or in groups
Acoustic ceiling clouds are the ideal solution for absorbing reflections from ceilings, reducing sound reverberation, and improving speech intelligibility!