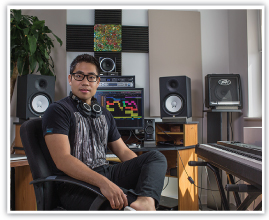 As a company born from the love of music and sound, we catch ourselves these days living vicariously through musicians who release their one-of-a-kind art and sound into the world. It's always an honor to learn that our acoustic panels are helping musicians create desired sounds and aid in their artistic process.
We caught up with Jerry Jean, a New York City based award-winning songwriter, arranger, producer, and musician. Read what he had to say about his path to becoming a musician and his experience with Audimute's acoustic panels:
Q. Tell us about your path to becoming a songwriter and music producer.
A. I took violin and piano lessons from a young age and went to NYU to study vocal performance. Upon graduation, I worked as a freelance musician in New York, playing shows and contributing keyboards and strings on both indie and major label records. I also coached singers frequently and taught music theory at my alma mater. Although I was grateful making a living as a musician, I did not feel I was leaving a tangible record of my own music. So in 2010, I expanded my focus to encompass writing and producing. I've since released 3 EPs, and am currently working on my first solo full-length album.
Q. Tell us about your songwriting process. Where do you find creativity and inspiration?
A. Sometimes there is no predetermined subject, and I simply begin by improvising while singing at the piano. I let the subconscious determine the song as I play novel chord changes and vocalize whatever comes out: spontaneous refrains, wordless melismas, whatever. It's a rather vulnerable, private practice. I record these explorations on my phone, listen back, rinse and repeat. Other times, I set out to encapsulate a predetermined emotion, vibe, or event taken from life experience, either from my own or from what I observe from other people. When the song's seed is predetermined, the process will still go back to the improvisatory method I mentioned previously. These explorations are ultimately refined into the lyrics and music that win out.
Q. What is important to you when you start to produce a new sound or a song?
A. It's important to be genuine, and to create something that can stand the test of time. This means investing effort and money not only to improving the songwriting and performance in the songs, but also to the technical aspects of proper recording, mixing, etc.
Q. You use acoustic panels on your studio wall. When did you realize you needed to improve the acoustics in your studio?
A. I installed the panels in late 2011, shortly after deciding to convert my spare room into my studio. The room was initially full of undesired reverberations. When I was coaching singers and they sang loud notes, the entire room shook with reverb. Although singers sometimes enjoyed this phenomenon, I knew it would be detrimental when recording since I wouldn't be able to remove the excessive sound reflections. I ultimately installed 8 large Audimute panels. They have a stylish aesthetic, and are totally functional.
Q. How do acoustic panels help you achieve a desired sound?
A. The paneling effectively absorbs the unwanted reverb. Combined with my room's carpeting and furnishings, the panels keep the sound controlled to my taste. More paneling would dampen sound reflections even more, but I wanted to maintain a modest element of liveness in the room so didn't go overboard with coverage.
Q. What successes have you seen as a result of using Audimute's acoustic panels?
A. My song Your Love, created completely in my music room, was a winner in the International Songwriting Competition. It now has over 50,0000 views online, and the Audimute panels can be seen in the studio performance video: https://www.youtube.com/watch?v=KYymQbVah54.
My EPs Your Love and Fighting For You have both charted on iTunes, and I'm steadily improving my craft with each new project. Since setting up my studio, I haven't had to make any adjustments to the paneling, and it remains an integral part of my daily listening environment. Not being bogged down with technical issues like proper room treatment allows me to focus my energies on making music and growing as a writer / producer. While working on my new full-length record, I've recorded live strings, horns, vocals, acoustic basses and guitars in my studio. The panels help me obtain clean recordings during each session while making listening back more accurate. Visually, they also complement the vibe of the room.
To learn more about Jerry, connect with him below:
Official website: http://www.jerryjean.com
Facebook: http://www.facebook.com/jerryjeanmusic
YouTube: http://www.youtube.com/jerryjeanmedia
Instagram: http://www.instagram.com/jerryjeanmusic